How to Create a Website Structure That Enhances SEO and Boosts Your Rankings
If your website is not performing it hurts your business. If you are buried down on page ten of a Google search return, it is impossible for people to even see that you exist. You need your website to stand out and be "The One" people are drawn to.
Learn how to boost your rankings with a solid website structure here: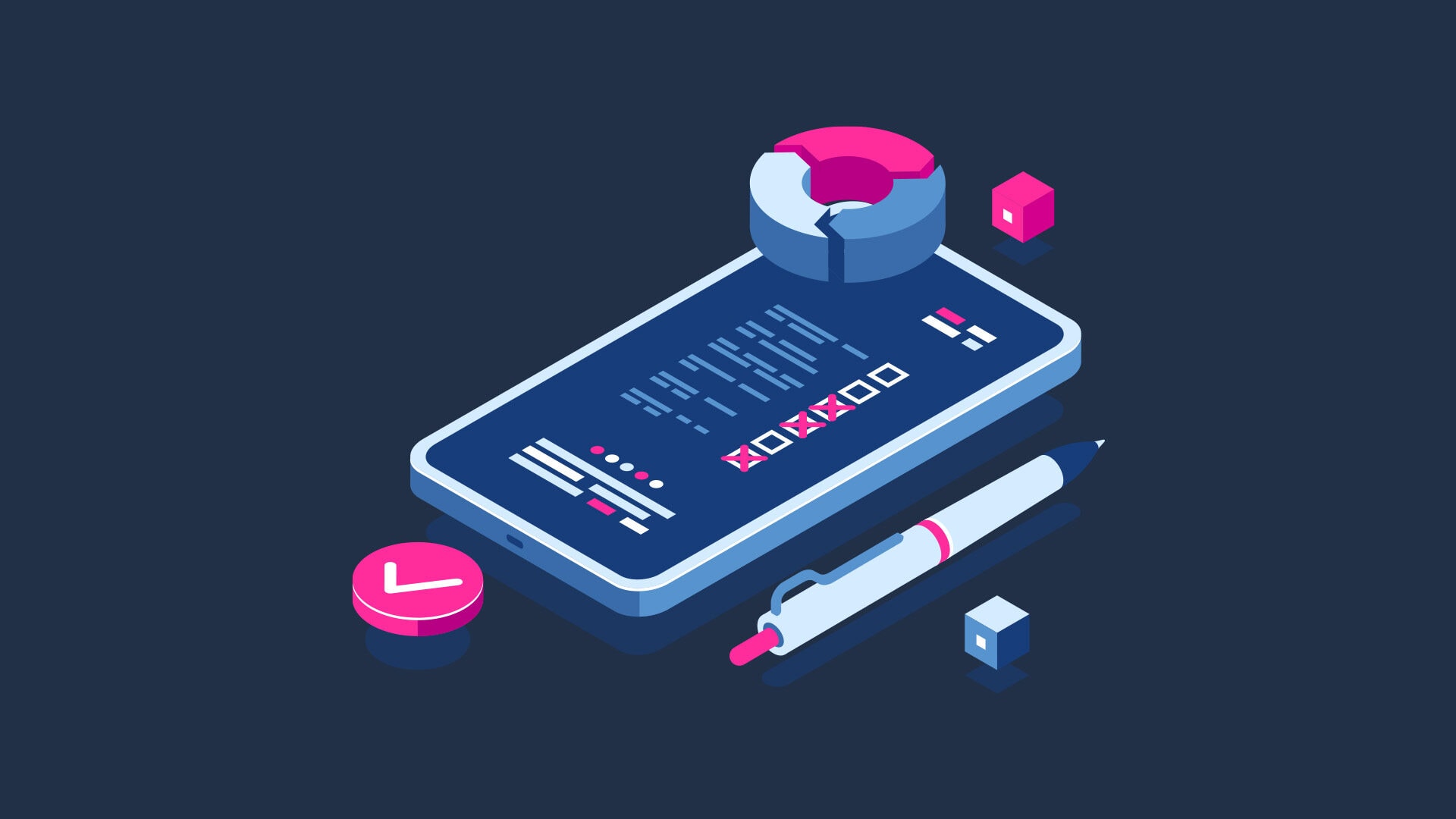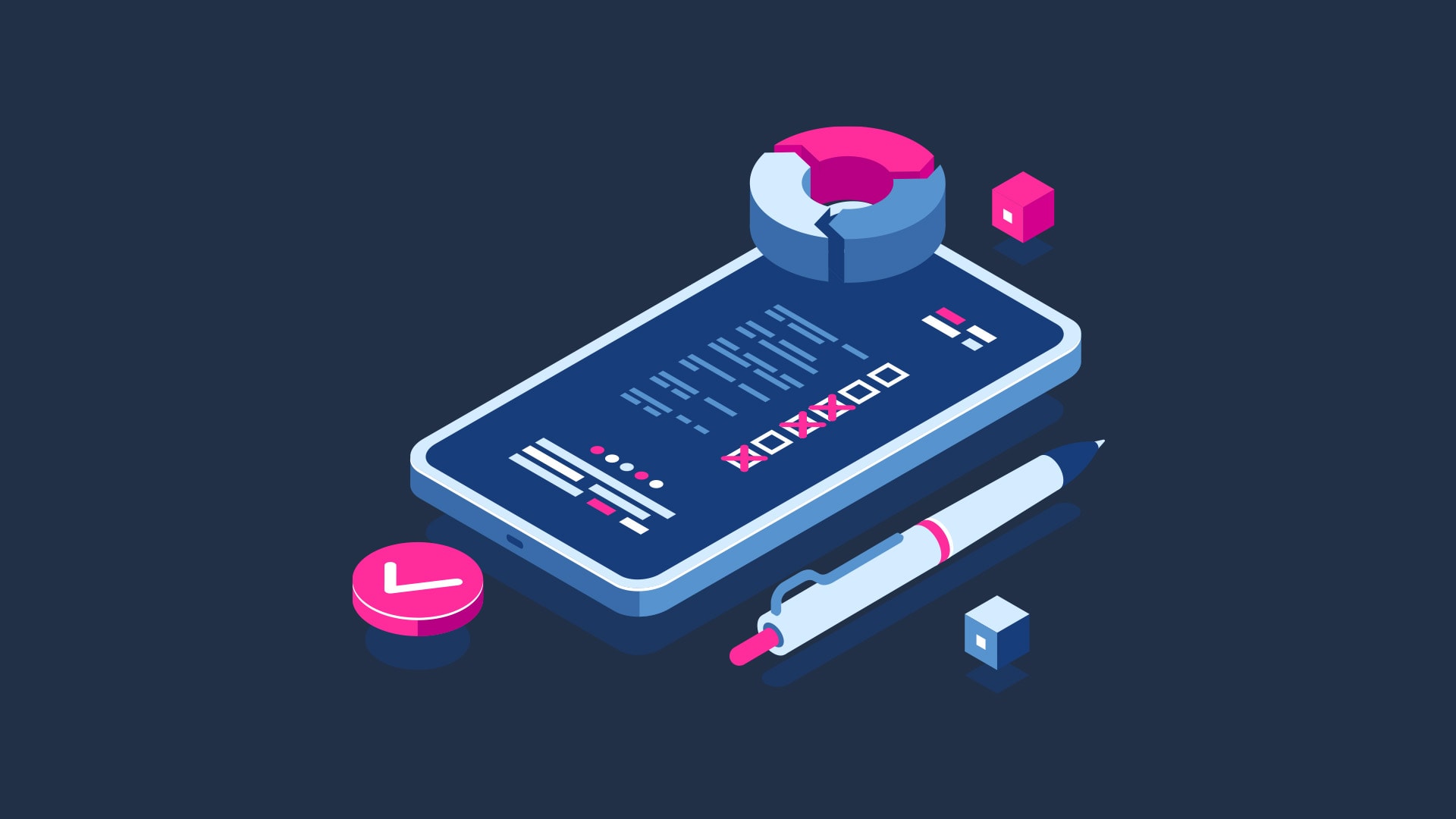 If your website is not performing it hurts your business. If you are buried down on page ten of a Google search return, it is impossible for people to even see that you exist. You need your website to stand out and be "The One" people are drawn to.
Climbing up the search engine ranks happens when you pool together the big website elements:
Incredible content
Regular auditing
SEO optimisation
Clear and well-organised website structure
We often get enquiries from business owners about the most effective site structure for their website. They want to know the ideal formula for page hierarchy, the number of pages, and which order to present their information to get people clicking and hanging around as well as helping to boost their organic search click-through rate.
These are good questions and critical website elements to consider before you get started on your website build. Your website structure is incredibly important and getting it wrong can be costly.
When asked why they leave a website without engaging with it users listed poor website structure as one of the top reasons:
73.1% of people said they leave if a design is non-responsive
34.6% of people said they leave due to poor content structure
You only have seconds to make a lasting good impression and convince users you are worth following through with, you need to make those first seconds absolutely perfect.
There is a strategy you can follow to create a winning website structure for your online business, whether you are looking to build a website from scratch or want to take a poor performing website and breathe life into it. It just takes a little experience and skill from someone who knows the ropes to show you how to bring it all together. Our expertise can help you build or rejig your content to shine as well as look after your site structure SEO.
As well as increasing your SEO rankings it's important to get your website structure aligned with user expectations to assist in increasing user flow and user experience.
Finding the best website structure for your business and the sweet spot your users love will take some time and careful thought to nut out.
See How Chillybin Web Design Can Drive Massive Amounts of Traffic to Your Website
SEO – drive people who are ready to buy directly to your website.
Content Marketing – our team of native-English speaking writers will craft articles that position you as THE authority in your niche.
Paid Media – pour fuel on the fire with paid ads that produce a steady stream of leads for your business.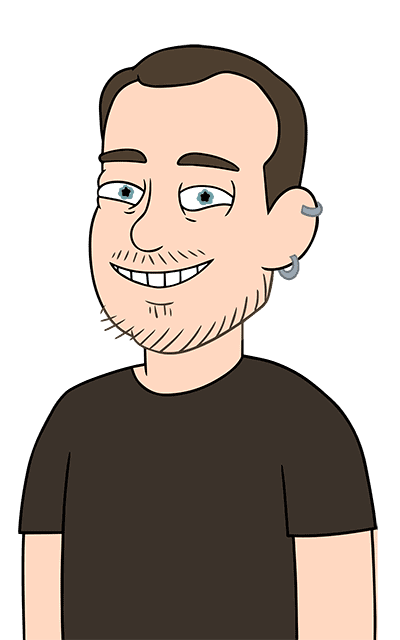 How do I improve my website structure?
The absolute unbreakable rule of thumb for effective websites is clarity. The more logical your site structure is, the more you'll see big benefits like increased engagement and quality user experience, increased SEO and few bounce rates.
This is where a well-planned structure comes in. Your website structure is how your content and pages are laid out on your site, through design, hierarchy and internal links and page connections that allow a user (and crawl bots) to understand where the start and end are, and which are the parent and child pages in terms of gathering information.
A good website structure includes:
Breadcrumbs – In web design, breadcrumb navigation is a way to show your users their location and how they got there. Like Hansel's breadcrumbs, it helps users retrace their path and see where they are in the greater scheme of your site.
Internal links – Internal links allow users to quickly jump to a relevant page or article they may need to gain more information. This means you avoid going into too much detail where it's not needed, enabling your user to take in the information they need most right now, and jump across to further information to help their decision if they need it.
Navigation – Clean, well-defined website navigation helps users find what they are looking for quickly as well as understand the purpose of your site easily. That enables them to quickly assess if your content is the right fit for their needs and encourages them to stay on and keep interacting.
Taxonomies – Good website taxonomy categorises content and groups like items together. Again, this comes back to clarity and logical presentation. It serves both website users and search engines to make content discoverable, accessible and purposeful.
Schema – Schema refers to behind the scenes mark-ups that describe your information. It's specifically designed to enhance the knowledge bots have in getting to know your site and what you offer. For example, the XML markup can explain to a bot that the picture you have included on your page is a child learning to walk with the assistance of a blue sensory shelf you sell on your site. The more details bots have about your site, offerings and services, the more opportunities they have to include your website in different and relevant search returns to get you a wider range of organic hits.
As you can probably tell, the more of these elements your include on your website, the easier it will be for users and crawl bots to see what you have, where they are and where they are going.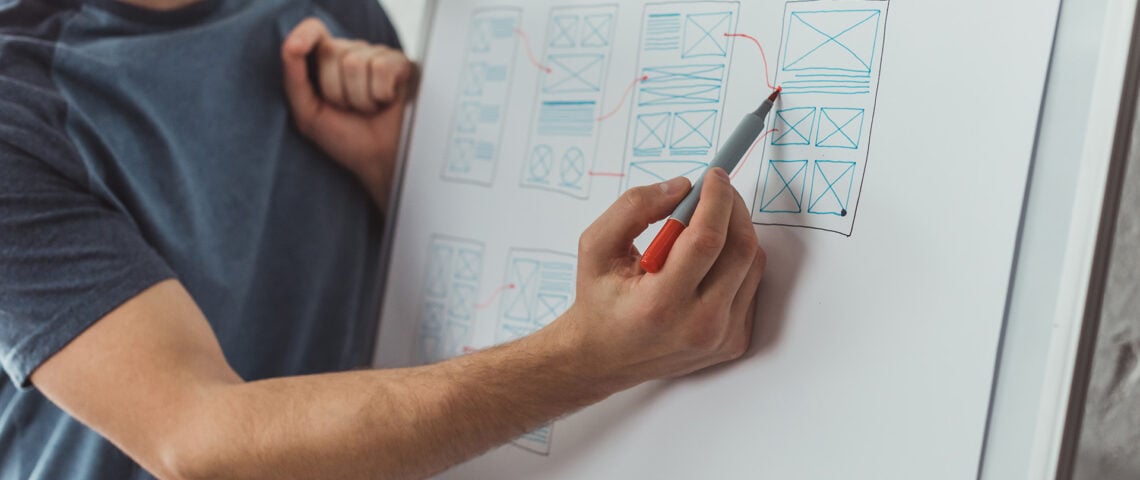 Why is website structure so important?
If your website design is poor, nothing can save it, not even the world's best content, all the right keywords and a social media marketing team pulling rabbits out of hats. If your website design is poor, people won't take the time to explore, click and convert.
There are three important ways that website structure impacts your web performance:
User Experience (UX)
A site structure that is planned well and presented logically increases user experiences and gives them more opportunities to find what they need and the related information.
You only get one shot at making a good first impression, if you fail in those opening seconds to engage your user and provide them with something they can interact with, you lose them for good.
Following a frustrating website experience, 88% of consumers state they are not likely to return.
It's important to remember that with so many options out there if a user finds they are wasting time chasing their tail on a poorly structured website, they have every opportunity to look for a new website rather than try to come back to yours and figure it out next time.
Search Engine Optimisation (SEO)
As Google SEO algorithms get more complex, structured data becomes more important to get right. Strong SEO relies on crawlers understanding what your website is, what it does and who it's for in order to see the relevant audience and serve it up to them as a valuable option.
The more information you provide through mapping, structure, schema, hierarchy, links and taxonomies you have, the better your indexing will be. You'll also have more opportunities to convince search engines, like Google, that you have what it takes to deliver a quality product and valuable service to your audience.
When you take the time to address your website structure and bring it to a high level, a bonus will be that you will also meet most, if not all of Google's Core Web Vitals by default. That doesn't mean you need to skip on-page SEO checks, so make sure you know what all the current SEO desirables are and you audit regularly to make sure you are performing well.
Unique content
When you have your content well planned and structured into categories and shown in the hierarchy you reduce duplicate content and keywords, giving each page a clear, distinct and organised purpose and intention, even across similar topics.
We build stunning, user-focused websites that will wow your customers.
Are you a business owner in Singapore, Australia or worldwide? We work with clients across the globe to deliver beautiful yet functional website designs.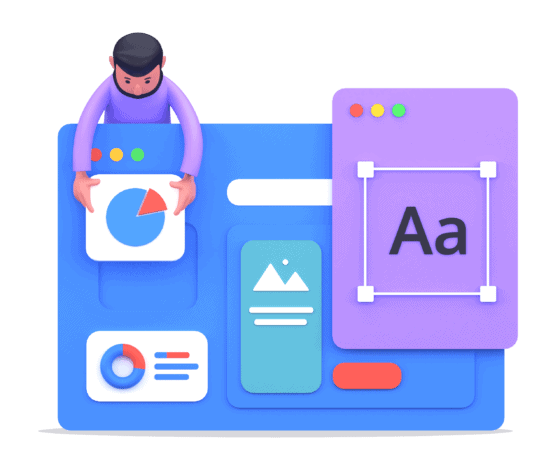 Steps To Building Good Website Structure
Planning ahead is so essential as it means you cover all your points in a logical way and won't have to undo your hard work if it doesn't come together in the end.
It's a task many underestimate so a thorough plan will help you realise what you are up against. There is a lot that goes into the development or re-design of a website structure.
Here is a step-by-step guide to planning out your website structure so you know what to include when it comes to crunch time.
#1. Plan Ahead
There are plenty of different organised structures to choose from. The right one for you will largely be determined by how much content you have and what you are offering.
Do your research to see what similar website structures other businesses use, particularly those that are in your industry. See how these sites rank in a search return and how long you are happy to browse around them and take notes on their strengths and weaknesses.
Website structure is really not the best place to start innovating. Push for high-quality execution over new and different styles. You need to consider what people's expectations are and deliver that. In order to achieve this, you need to know who your audience is, what their favourite websites are as well as their UX expectations are on your site.
Chances are if you are seeing a pattern in website structures offered by your competitors, that's in line with user expectations.
To build your structure plan, list all your web pages and show any and all logical connections between them. You might be surprised by the size of this list (either too big or too small), there is no right or wrong, there is a structure that fits no matter what you have. As long as you have relevant and quality content, you can simply align the right structure to suit anything from a simple start-up of four pages, or a muti-article extravaganza like a wiki.
If you have any doubts, talk to us about what website structure will best suit your plan and how it will look for your prospects.
#2. Hierarchy & Structure
Part of choosing your hierarchy is also choosing your structure as the two go hand in hand.
We would recommend bringing in a professional website designer who understands UX at this stage because you want to be sure you have the right fit, that the template you are using is a solid one and that your internal developers are up to speed on how to make it work.
It's essential that your overall structure is designed to guide your prospect through your website that includes a rewarding and desirable buyer's journey.
The most common structure type is the homepage on top, with everything else fanning out in the tiers below. Every page should be ranked and shown in order of importance. After Home, there are usually two top-level services listed in the tier below, five or so pages below that and additional pages forming a wide base. This is also a clear and logical way to structure your URLs.
Breadcrumb: Home > Baby gift sets > Luxury newborn > Girls
URL: mumtobe.com/baby-gift-sets/luxury-newborn/girls
Getting this right sends a clear message to bots about how your pages relate to each other, gives users a clear pathway to journey along as well as makes it easy to introduce breadcrumbs.
If you have additional subpages, these can be ordered in the same way, so you develop a plan that looks similar to a family tree.
#3 Build For People
When it comes to SEO, the best website structure is hierarchical. The structure is simple and logical and easy for search engine bots to crawl, however, that might not be the best site for user-friendliness.
It's important to build your website for people, not bots. Yes, you can have both high-performance SEO and a UX geared site, but you have to level them out and not cater too much for only crawling. Overall it's people, not SEO who are deciding if your website is worthwhile.
The more interaction you get, the higher your SEO will climb, compared to an SEO geared site with a high bounce rate that will plummet on the SERPs.
#4 Build a Linking System
You want an internal link system that helps encourage flow and direction and makes for easy navigation, but don't go overboard
Your number one aim is for users to be engaged with the current content. Your links need to be gentle suggestions for the most relevant information they might need or be interested in.t you also want to encourage them to go deeper into your site.
A safe number of links is three to five links per page – with five being more for longer blogs (1000 + words) and three being for smaller quality blogs of 600- 700 words.
#5 Heading Hierarchy
Along with each of your pages shown and organised in a hierarchy, the content within each of your pages needs to demonstrate order and structure as well. This is beneficial to understanding your content for both human users and bots.
As well as showing the relevance and making information clear, breaking your content up with headings also gives a visual break that is appealing and allows the reader to take a rest.
The typical four headings used for websites and content are H1, H2, H3, and H4. These are easy to use and typically naturally compliment your existing content. Stick with heading hierarchies that are logical and easy to follow.
#6 Reduce Clicks to Buy
Some web designers have a rule of a maximum of three clicks from home to purchase. This can be a great structure for eCommerce sites, but might not be a great fit for every website.
What can be agreed on is that you do need to make sure the navigation depth is kept shallow with as few clicks needed for your users to get from your parent site to their destination.
As great as this is for users, reducing clicks through navigation is even better for SEO.
We want to leave some room to make your content and user journey work for your users so while it's not a strict plan, do look to reduce your navigation clicks to four or less wherever possible.
#7 Include Breadcrumbs
As well as moving forward, you want to make it easy for users to take a step backwards in your menu too, especially if you have different products to browse.
Breadcrumbs show a user their pathway to getting to this page and allow them to step back to a previous point with a quick click.
e.g. Home > Women's Clothes > Sale > Dresses > Summer Prints
This is a big tick for users who are browsing on mobile devices as it's a clear and deliberate step backwards rather than a back button or navigation panel which might fail to provide mico-steps or desired subcategories.
#8 Stay On Top of Keyword Research
Quality content is really important. Once you have your structure in order, the content needs to be relevant and engaging enough to encourage users to stay and get to know your business. You need to be delivering content your target audience is actively seeking.
As you build your website structure stop and perform keyword research on your content to make sure you are crafting pages that are optimised to match.
Keyword research will reveal what terms are most popular right now, including questions being asked and products researched. When you know what users are seeking you can build content that answers these questions and satisfies their needs as well as help to boost your rankings by showing up in the big searches and gaining traffic.
Online tools like Ubersuggest can help with suggesting some terms that may be effective to give you a starting point.
#9 Sitemaps and Schema Markup
Sitemaps are a great tool for those times they are searching for something not easily available on the user journey you mapped out. More importantly, sitemaps are essential for search engines to quickly and efficiently crawl your website.
As well as the easiest way for crawl bots to navigate your website the map is detailed enough to show hierarchies and page connections. It's a fast process that should only take 20 minutes of your time.
Including structured data like tags, JSON code and rich data, will take your website architecture to the next level, especially if you go the whole hog with schema markup. Doing this yourself is actually possible with plenty of tutorials to walk you through, it's far simpler than attempting JSON code.
This data is purely for search engines and can significantly increase your organic traffic (think 400% increases).
#10 Test
Once your website is live you need to stay tuned to how it's being received. Knowing if there are any sticking points early on allows you to correct them and get traffic flowing again quickly.
Typical issues that can only be discovered and resolved in real-life testing include:
Hesitation or stalling on the user journey
Difficult areas, like mobile navigation
User journey improvements
Lack of logical flow in certain areas
If you are implementing changes and updating your website then running regular tests becomes more important to make sure the modifications are in line and working the way you need them to, highlighting areas you need to revisit and improve.
While there are thousands of templates to choose from to enhance your website structure and boost your SEO, getting your website organised and structured in a logical and clear way is complex work that might involve a lot of trial and error to get right.
Given that website structure impacts your UX as well as your SEO, you need to be sure you choose the right structure type and line up your website content correctly in order to increase traffic and assist in creating online success. A website developer is your best bet when it comes to designing, upgrading and implementing your business website structure. See about our website design process and what you can expect from our quality, customer service.
Not only will your website structure elements flow better compared to working on it yourself, but a professional developer will also make sure every element works to be responsive, flawless and engaging.
For help in understanding how to redesign your business website to enhance user flow and improve website content structure touch base with Chillybin and start a conversation about how you can get more leads and dominate the search results.