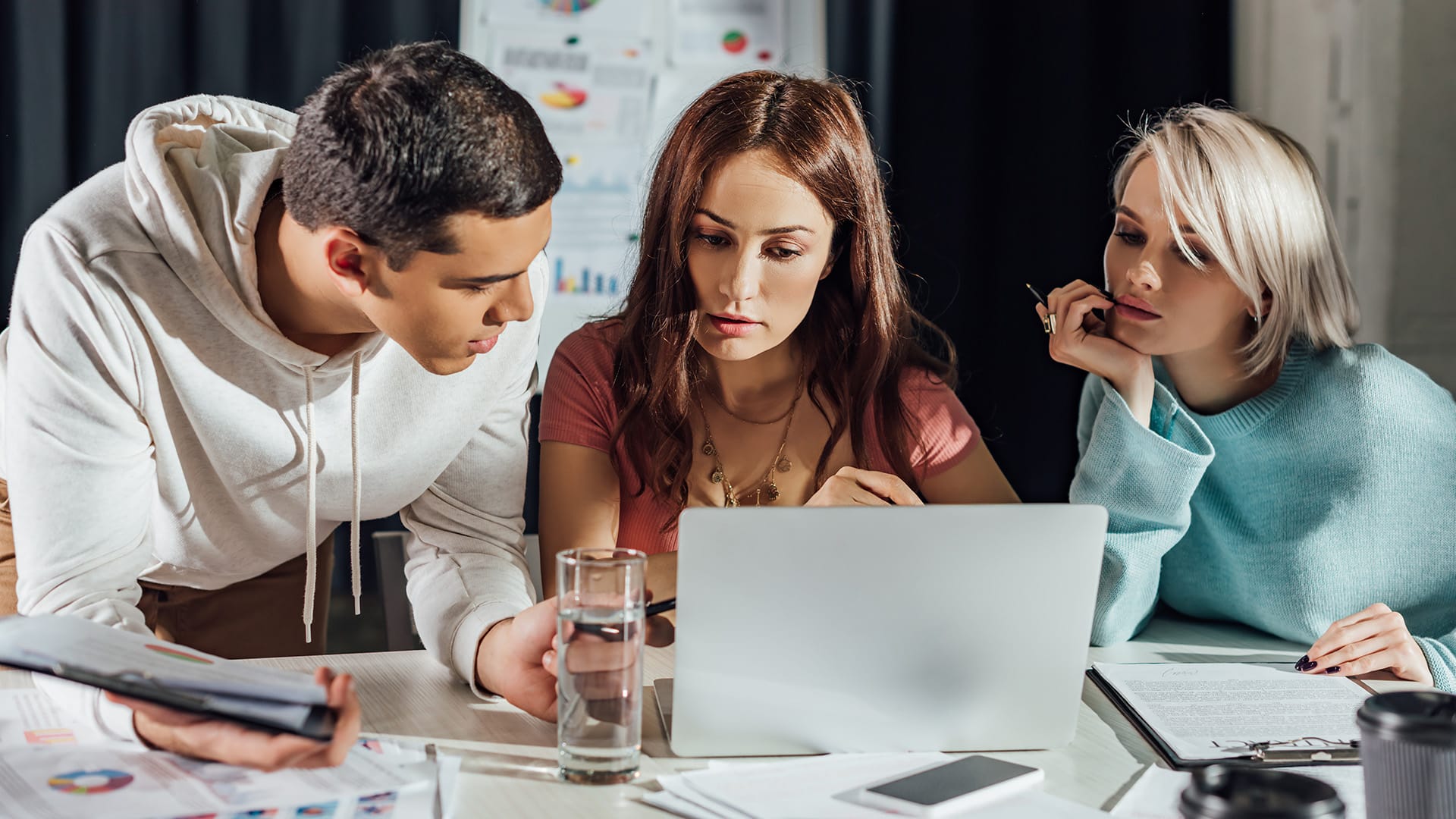 If you're looking to create a website in Brisbane, it's important to understand the terms and services involved in website design.
As the digital age continues to evolve, having a website has become more of a necessity than a luxury for businesses. Websites serve as virtual storefronts, providing potential customers with a glimpse of what a business has to offer.
For businesses in Brisbane, having a well-designed website is essential to compete in today's market.
In this guide, we'll explore the different aspects of website design in Brisbane to cut through some of the jargon and help you make informed decisions on how to design an impactful website for your business.
Common Website Design Terms
Understanding the key terms used in website design is crucial when hiring a designer because it allows you to all be on the same page to get dazzling results with fewer check-ins and changes. Here are some of the common website design terms you'll hear when building a new, or revamping your old website.
Design
Website design refers to the process of creating the look and flow of a website, either from scratch or from a template. It includes page colours, images, videos, graphics, sound, photos, texts, buttons, scrollers, links to social media, and menus, just to name a few.
The number of variations, inclusions and ensembles available is just about limitless but download speed should always be considered as part of your design selection. While many design elements can be optimised by your Brisbane-based website design team, the rule of less is more is absolutely at play for delivering fast-loading websites.
Including all the bells and whistles will work against you if your website is painfully slow.
In many cases, people think that website design is limited to the task of being visually attractive. This is a small part of what a good website design is responsible for. In truth a website design should be able to:
Attract and maintain user attention
Highlight your business brand
Increase brand familiarity
Correctly portray what is being sold
Guide a user to an end goal
Provide evidence of authenticity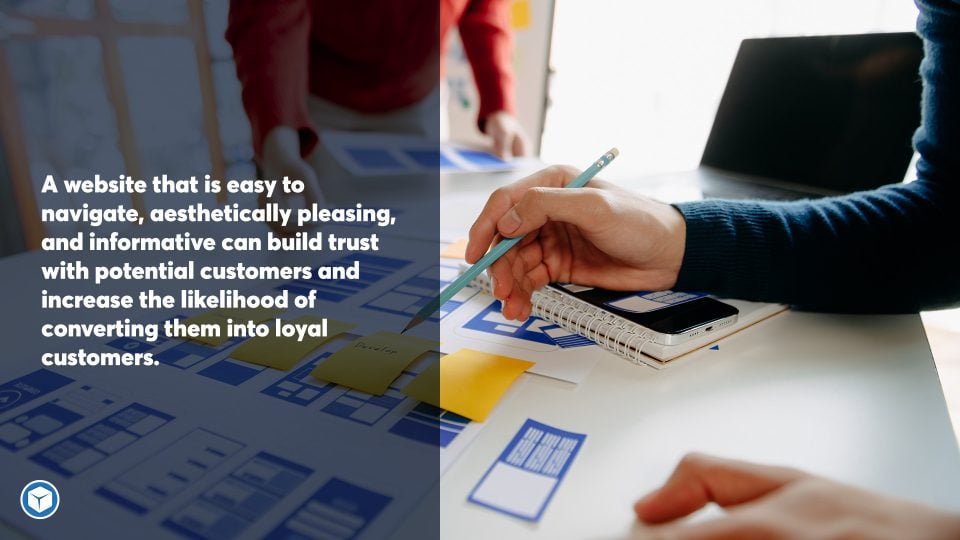 Why Website Design Matters
A website is often the first impression a potential customer has of a business. A poorly designed website can deter visitors, leading them to leave before even exploring what the business has to offer which not only cuts short a potential sale, it also gives you a high bounce rate – and Google search algorithms hate that.
On the other hand, a well-designed website can capture a visitor's attention and encourage them to explore further. The longer someone stays online with your business, the more likely they are to make a purchase, and the better it looks to Google computers.
A website that is easy to navigate, aesthetically pleasing, and informative can build trust with potential customers and increase the likelihood of converting them into loyal customers.
How Chillybin Makes Website Design Easy
We take an in-depth approach to learning your preferences during a discovery session, even if it's only a general idea of what theme you are looking for. As well as finding a good fit with the values of your business – i.e. something soft and sweeping or something vivid and powerful, we also take inspiration from the colours, fonts, and logos you use every day as part of your company's business branding.
Continuing on from your existing branding will work to strengthen brand awareness and as well as cement your authenticity online.
While there are just about limitless images available as stock photos both free and paid, we highly recommend using photos of your business, your products and your staff. Your own photos are instantly recognised as authentic and genuine and also provide a sense of familiarity and trust when customers reach out to engage with you via a chat, email or visit you in person.
How Many Pages Does My Website Need?
Your website's design and number of pages will be driven by your unique needs and preferences. These need to have a uniform structure that provides a strong feeling of harmony and flow from page to page.
While it's important to embrace your own style, it's equally important to stick to a trusted formula that users will know and expect. A typical website will include:
Home page
About us
Services
Case studies
Blogs
Contacts
Different Types of Websites
There are two main categories for websites, corporate and eCommerce, with corporate websites being the most common.
You don't have to comply with any particular website type, new websites are being born every day with variations to suit users for property, education portals and restaurant menus just some of the new variations we've seen in recent years.
What your website includes and how it is set up is quite literally limited only by your imagination.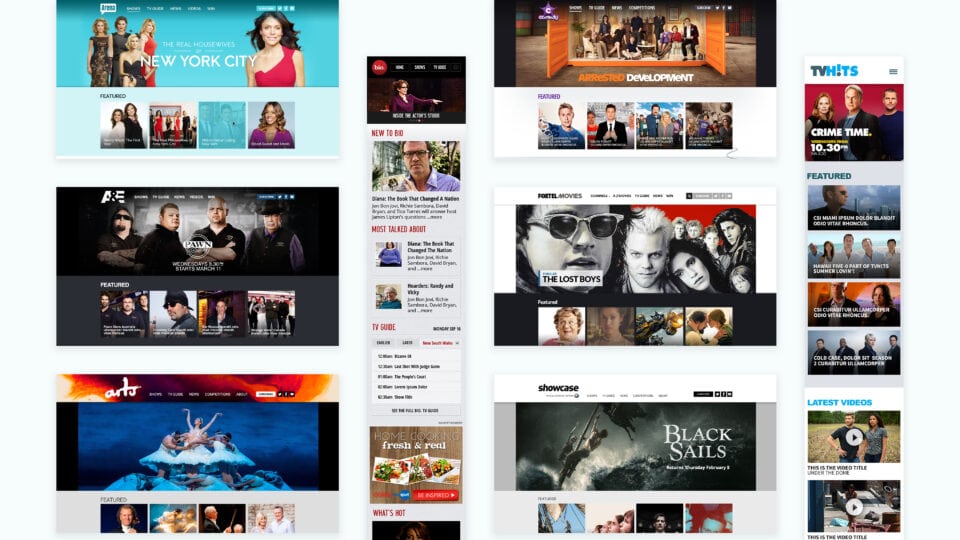 Corporate Websites
The main goal of corporate websites is to provide information to users that is simple, clear, and helpful. As well as being relatable and informative, the website content should also guide them towards a mutually beneficial end goal (i.e. a sale). The message conveyed by these websites is typically "Let us take care of everything for you."
The ultimate aim of a corporate website is to have the reader reach out and request contact or services which is most often achieved through a well-worded call-to-action (CTA).
Typical CTAs on a corporate website are:
Contact us form
General enquiry form
Feedback form
Direct link to call
Calendar to book an appointment
Download (then upload) a registration, application or nomination form
A new development that has become standardised with corporate websites is the addition of a chatbot that offers instant assistance by answering simple questions and providing basic interaction. 
eCommerce Sites
If you have an online shop, you will need an eCommerce website to take your corporate website to the next level. We really do mean the next level as eCommerce sites are significantly more complex, more detailed and more extensive than others. You also need to factor in easy edits and updates as your products, prices and best sellers will change frequently and you need to ensure the content you have online matches what's on offer.
The setup will change with an eCommerce website. The contact us form (or general enquiry form) will become a secondary action, with the primary action being to add a product to the cart and proceed to the checkout.
While there are cheaper eCommerce templates available we don't recommend using them as you really need your shopping experience to be as direct, convenient and seamless as possible to provide customer satisfaction and convey trust and authenticity for your website.
Every online store will have different offers and product inventories which means every eCommerce design will be unique. Additional features that you can expect to see in an eCommerce website that won't be necessary for corporate websites are:
High-quality individual product images
Searchable product descriptions
Shopping cart
Add to cart function
Recently viewed items
Secure payments
Top-selling or favourite buys
Sales reports.
It's a good idea to offer both a fast checkout (for use when out and about or on a network that is not private) as well as a customer log-in option.
While most platforms are flexible enough to offer customisable templates it is important to ensure that the website designer you choose has experience with eCommerce sites to be able to handle the complexities. Look for a high-quality design with robust WordPress development to create a fluid flow between links and programming. This will ensure the purchase will go smoothly for your customer.
When set up correctly an eCommerce website will be able to take orders and receive money 24/7, bypassing time zones and allowing shoppers to buy when they are ready.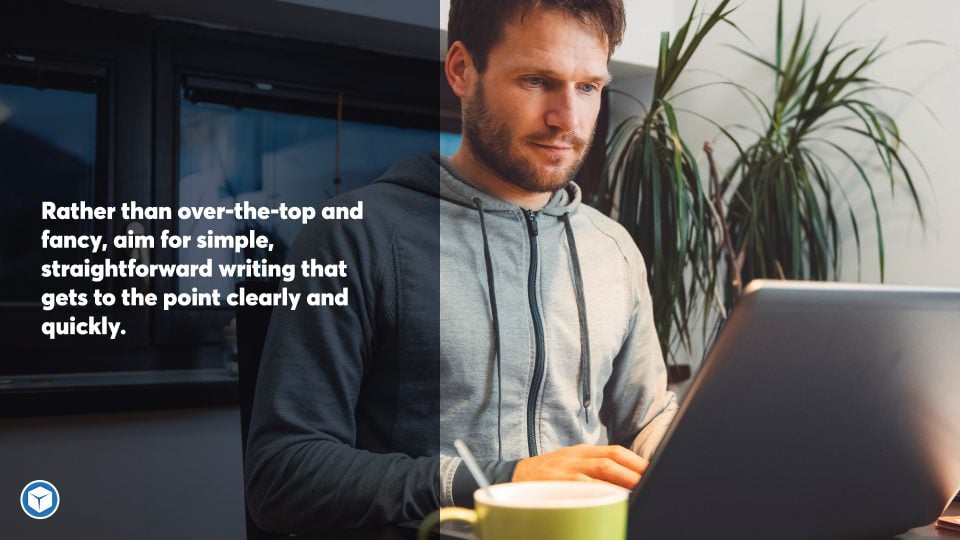 Copywriting Services
Aside from the programming, the biggest make-up of your website will be content creation. While users will appreciate easy-to-navigate websites and menus they probably won't register the quality and smoothness, it tends to be a subconscious feeling of annoyance or ease.
Content, however, is something they will notice. Poorly written or confusing content will not just turn users away, they will write you off as being unprofessional and untrustworthy.
Well-written content will be relevant to your target audience's needs and problems, and be engaging as well as subtly persuasive. A professional copywriter has the skills to apply the right words in the right way for maximum impact and to gain a positive emotional response.
Every one of your business website pages needs to have content that speaks professionally and shows you are an authentic and authoritative point of contact in your industry.
Rather than over-the-top and fancy, aim for simple, straightforward writing that gets to the point clearly and quickly.
Aside from your individual pages copywriting can be used to create unique text for:
Landing pages
Blogs
Emails
Newsletters
Ads
Social media posts
While you can outsource copywriting services it's highly recommended to be as involved as possible in content creation yourself. This will give your website a consistent and genuine voice that has personality. Too many websites feel disjointed. It's hard enough trying to promote warmth in an online business- they can seem so impersonal. Content coming from you is that personal touch your website needs for your business to feel human.
You know your business, product and audience better than anyone which makes you the best-placed person to talk about what you do and what matters to your company. Writing your own content also means you know what is posted so you can not only take full responsibility for your online presence but also be able to respond to questions or ask some of your own, and be part of the user experience.
We build stunning, user-focused websites that will wow your customers.
Are you a business owner in Brisbane or South East QLD? Chillybin's Brisbane team work hand in hand with businesses just like yours to deliver beautiful and functional websites.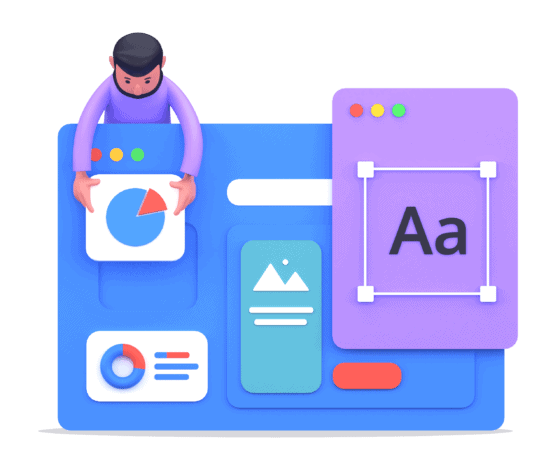 Website Design Services
As well as helping design your website and bring it to life, a website design company can also offer a package of additional services aimed to assist you in keeping your website fresh and valuable. Here are some of the most common website design services:
Website Design and Development
This is the core service offered by website design companies. They'll work with you to create a customised website that reflects your business's unique brand and goals and meets your specific business requirements.
Responsive Design
The majority of internet traffic now comes from mobile devices. This makes responsive design essential for all websites. It's important that your website programming include code that makes it optimised for all screen sizes and mobile-friendly. This includes changes to menus to make them touchable, changes to CTA buttons so they are prominent and small screens and changes to interactive elements like text sizes.
E-Commerce Development
If you're selling products or services online, you need an e-commerce website that is secure, reliable, and easy to use. Our e-commerce website designs are built to increase conversions and maximise online sales as well as enable you to make changes and updates as often as needed to stay relevant.
Website Maintenance
Once your website is up and running you need to keep it in check with updates, error removal and security measures. Ongoing maintenance support helps ensure that your website continues to perform at its best and gets issues and errors resolved before your users encounter them.
Chillybin offers ongoing website maintenance and support services to ensure that your website is always up-to-date, secure and operating smoothly.
Search Engine Optimisation
Search engine optimisation (SEO) is the process of optimising your website to rank higher in search engine results pages (SERPs). Our SEO services in Brisbane include:
Keyword Research
On-Page Optimisation
Off-Page Optimisation
Improved Loading Speed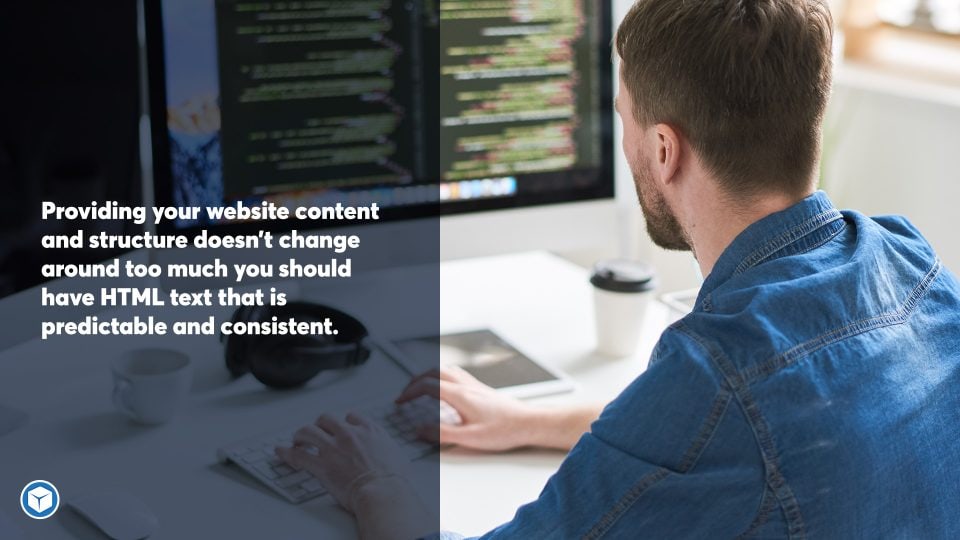 How Does Website Programming Work?
Programming falls into two main types, HTML and PHP. You will need both to deliver strong website performance.
1. HTML programming
HTML is Hypertext Markup Language. This works in the background to form the frame of your website, like a skeleton, that works to define how your website will function and the way the information will be displayed.
HTML is responsible for showing:
Headings
New lines
Bold text
Image placement
HTML language is simple with logical repetitive phrases that make it possible for anyone to edit or write, even without a strong tech background (although an entire website would take a long time for a beginner to create from scratch). Because of our extensive experience and training, we can create new websites in HTML without templates.
It's a little bit nicer to have that flexibility and freshness of a perfectly new website. The only exception is if your website is especially large (i.e. over 30 pages) in which case we'll create an amazing corporate-branded HTML template for you and allow a CMS like WordPress to auto-generate your pages. This saves time and keeps your website build costs down.
Providing your website content and structure doesn't change around too much you should have HTML text that is predictable and consistent.
Once your website has been completed we give you admin access and show you how to view and change your HTML to make alterations whenever needed.
While your WordPress corporate website uses simple HTML programming for displaying information, it also relies on complex PHP programming, so you will need a website designer who is proficient in both.
2. PHP Programming
PHP Programming a Hypertext Preprocessor. Coding can be anything you like, just like how it's entirely possible to make up your own language, the trouble is, no one will understand it but you. In order to talk with others and be understood, you will need to know and use a universal script, which is what PHP is. It's code that is known by and accepted by just about all public platforms. This makes it an essential aspect for web developers to use for all commercial, open-user websites.
Business websites are built using scripts from HTML and PHP programming.
PHP is responsible for complex commands and makes websites interactive – especially important for mobile users and building apps with your website.
While PHP isn't the first code used for website builds, it is the first to be fully embedded into HTML. This makes the PHP programming language a top favourite on the internet.
Website Design Terminology
These are some extra elements to keep in mind for modern website design efficiency. A good website designer will be building these elements into your new website or making sure they are a prominent part of your website revamp.
User Experience (UX)
UX factors in visitor satisfaction and looks to maximise it by creating a seamless website experience from start to finish. Your prospects are seeking great experiences, as well as great services and products. Ideally, you are looking to direct your user through a set of steps that lead them to their end goal quickly and easily. This requires a rock-solid understanding of what your users want and how your business can provide what they are looking for.
By providing an interactive user experience online you get high-quality leads and great conversion rates as well as present a quality website to search engine algorithms.
By factoring in user satisfaction and giving prospects a positive experience online you increase trust and brand awareness that help assure users your services and support are genuine. UX is so important that it is now highly rated by search algorithms that actively search out UX components like:
Fast download speeds
Instant interaction speed
well-placed action steps
low bounce rate
increased interaction times
Failing to factor in UX will result in a website that is frustrating to use, confusing, or provides information or advice that is unsafe.
Interactive Website Design
Interactive Website Design is also referred to as Creative Web Design. It goes hand in hand with quality UX, where website designers look to create websites that have an increased impact on visitors.
Interactive Website Design sites go above and beyond standard user expectations in order to deliver a website that users love to revisit and share.
Interactive websites increase engagement and keep visitors coming back. They do take time to create as these websites are more complex (see PHP programming above) but the extra time and expense to bring them to life can deliver a website that gets big results quickly.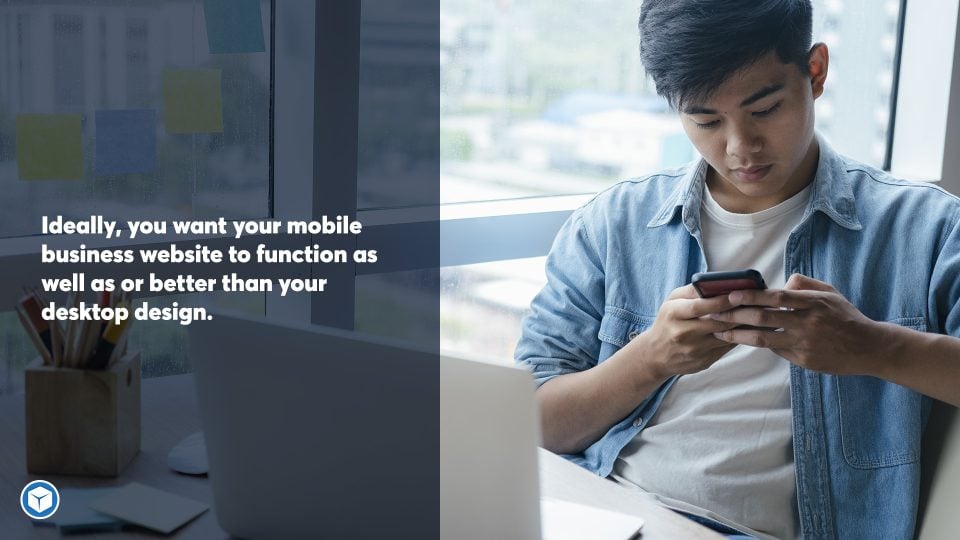 Responsive Web Design
An absolute must for all business websites is a responsive web design. Once upon a time, a desktop website was all you needed, now that takes a backseat to mobile devices as more and more people are using phones and tablets to research and purchase – even when they are at home on the couch, it's just easier.
To put your website within reach of customers anytime, anywhere you need to make sure the coding on your website is flexible enough to work on any sized screen. This means extra code needs to be included for rotating screens, touch-friendly screens and flexible text sizes so that users can tap and expand.
Responsive website design is complex as there are so many elements that need to be able to change to suit the device in someone's hand, be that desktop, smartphone or tablet. The most essential considerations are:
Menu locations
Scrolling
Call to action placements
Download time
Portrait and landscape view
Ideally, you want your mobile business website to function as well as or better than your desktop design.
A quality website designer in Brisbane will look at how your web page displays across different screens and make sure you reach your audience when they are, to suit their reading preferences.
Getting it right gives you extended reach that satisfies your audience as well as ticks some boxes on Google's search algorithms to increase your SEO.
What Additional Tools Are Needed for Website Design?
Figma is one of our favourite platforms for designing website pages. It offers an incredible suite of tools that accurately and professionally allow any website idea to come to life in full glory. To use it well and take advantage of everything Figma offers you need hours of training.
Our Chillybin team members in Brisbane are masters of the Figma user interface, enabling us to design high-quality, flexible website pages in incredible detail. We aim to create a powerful and positive first impression in less than eight seconds in line with your business goals and website vision.
What to Look for in a Website Design Company
When choosing a website design company, there are several factors to consider.
1. Experience designing websites for Brisbane businesses
This will help ensure an understanding of the local market for a website design that resonates.
2. Well-rounded design portfolio
There should be examples, samples or case studies available for you to see the website designer's previous work to get a sense of their style and capabilities (if they have won awards for their website design, then even better).
3. Able to create customised websites
A customised website is the best at reflecting your unique brand and business goals. It will also ensure you stand out from the crowd.
4. Technical expertise
As well as visual design expertise you want your website design team to have the ability to build a responsive website that will work across all devices and platforms.
5. SEO best practices
You want your website to have the widest possible reach and be discoverable which means that SEO (search engine optimisation) elements need to be factored in to give your website the greatest chance of being found in a targeted search.
At Chillybin, we understand that a well-designed website is crucial for business success. Your website is often the first impression clients have of your business. We strive to offer comprehensive website design services in Brisbane to help you make a strong and lasting impression online that will shine a brilliant light on your business offer.
Conclusion
In today's digital age, having a well-designed website is essential for businesses in Brisbane. A website design company can help you create a website that resonates with your target audience, builds trust, and increases the likelihood of converting prospects into actual customers.
When choosing a website design company, consider their experience, design portfolio, technical expertise, and the range of services they offer. By working with a reputable website design company, you can create a strong online presence that helps your business thrive.
Our team at Chillybin offers a wide range of website design and development resources that can be used as either stand-alone services or combined in a package that can develop, nurture and boost your website offering, to get maximum benefit for yourself and your customers. We'll work with you every step of the way to ensure that your website is visually appealing, user-friendly, and optimised for search engines.
Contact us today to get your project started!
Website Design In Brisbane: Terms and Services Explained – FAQs