The Best WordPress Hosting Companies Of 2023
There are so many WordPress hosting companies to choose from out there, but which are the best? And most importantly, who should you trust your website hosting to?
We take you through our top five choices for WordPress hosts here...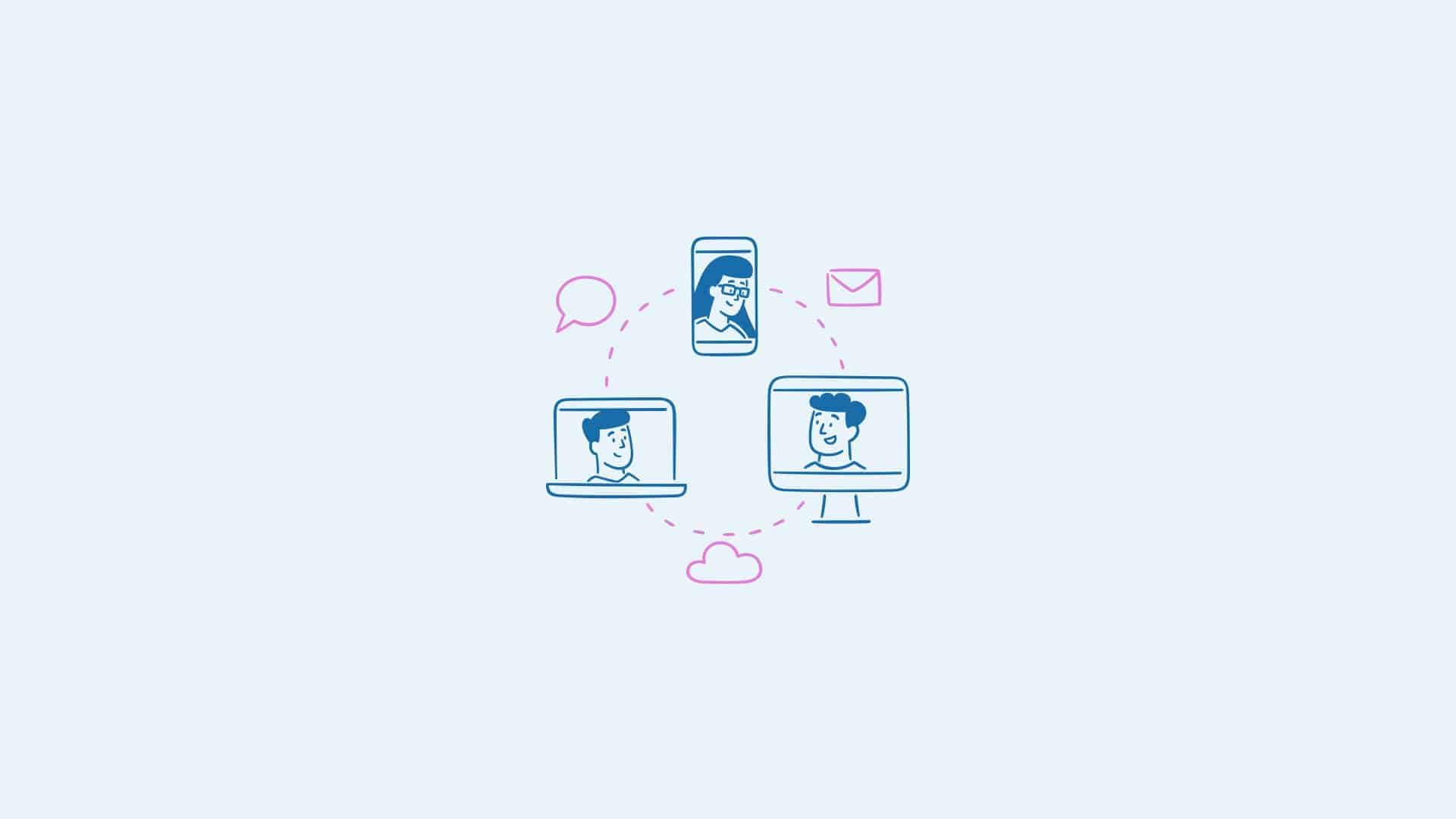 There are so many WordPress hosting companies to choose from out there, but which are the best? And most importantly, who should you trust your website hosting to?
Different hosting packages come with different limits and service options, so a key consideration to think about is if you'll be contacting your host's help desk to help troubleshoot server issues if you are handling IT yourself or internally, rather than having your website maintenance team handle it for you.
When choosing your WordPress hosting company you can take it one step further and choose a host that doubles as a WordPress manager. They will take care of technical issues and optimise your business website, taking out a lot of stress and time-consuming work.
It is easier to manage your WordPress site with a managed host but it raises a lot of questions about which host is best. You're trusting them with your business so you want to get the right company to look after things for you.
It really is important to get that host right from the beginning, especially as contracts make it hard to move suppliers and take your website with you if you are unhappy with your current offering or if it is just doesn't allow you to do what you need for the size of your business.
There are too many hosting candidates to mention (and far too many for you to look over and research yourself) so we've taken in the key components that make up good hosting and compiled a shortlist for you so you can work out how to choose the best WordPress hosting without any hassles or stress.
The key factors we took into account when creating the shortlist are:
Site speed
Technical support
Price
Scalability
These are also the essential factors you'll need to consider too when you make your final choice.
What is a Managed WordPress Host?
A Managed WordPress Host is where your host provider takes care of all the technical aspects of running your WordPress website. 
Some items you can expect them to deliver on include
Website backups
WordPress updates
Error correction
Web security
Site performance optimisation
SSL certificate
Content Delivery Network (CDN)
IT support communication (helpdesk)
Managed WordPress Hosting is a convenient, all-inclusive package that takes away the stress of running a business website.
Who needs managed WordPress hosting? 
Large websites are the ones that benefit most from having managed WordPress hosting although any business that can afford the expense will find it beneficial.
In a previous post, we did a rundown of common WordPress errors, and while WordPress is a fantastic platform for self-maintained business websites, they are prone to bugs and issues, especially with permissions, themes and plugin conflicts.
How much do managed WordPress hosting packages cost?
Luckily managed WordPress hosts offer monthly plans for their services, making them much more affordable for business owners. Hosting can cost anywhere from $4 to $35 a month.
Some will offer bonus features, like exclusive themes or plugins, which can be useful to some business owners, but not everyone.
If you have a website, you'll have a host plan to run it from, so it's a guaranteed investment for every online business. It does cost a lot more to add WordPress management to your host plan, simply because it requires all that ongoing work. 
The thing to consider is that that cost has to come from somewhere, even if you go for the low-cost option of handling your own technical issues, you do need to factor in the time this will take you, and more importantly the time you won't be spending on other parts of your business.
Who are the best web WordPress hosting companies?
Here is our shortlist of providers to help you choose the best WordPress hosting company for your website. There is no order to the list, they are all great choices, it's a matter of finding the one that is a good fit for you and your business type and operating style.
It's worth noting that these are also great options for WordPress hosts, even without the added managing package.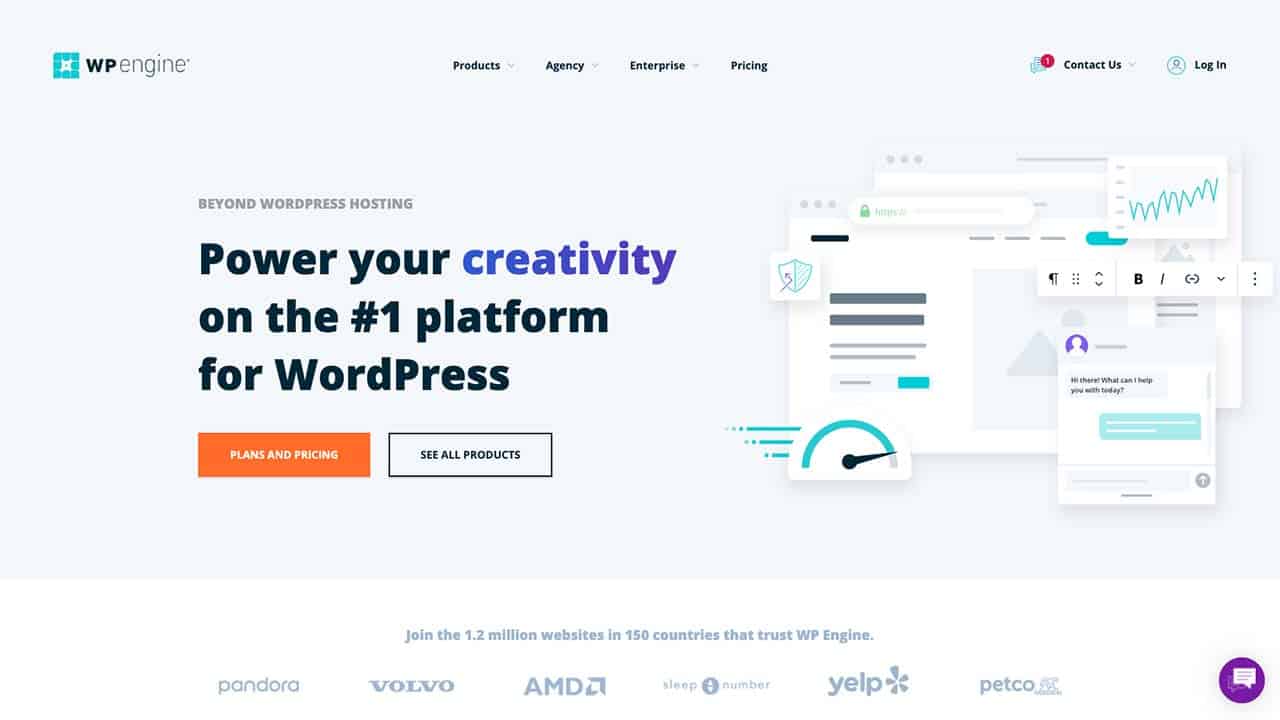 WP Engine 
The WP in the name stands for WordPress so they really are specialists in WordPress solutions, which is great for big, complex WordPress sites because you know they can handle the load.
Starting from $25 per month, this is one of the more expensive WordPress Managing host choices, however, it does give plenty of value for that money, including being one of the most dependable and reliable options on the market.
Security features include uptime protection and SSL certificate which means they can be counted on to be running, and running quickly with the benefit of an incredible caching system and a dedicated global CDN.
You'll love the user-friendly WP Engine dashboard as well as the expert help from the 24/7 technical assistance desk and knowledgeable WordPress support team. This is one of the best customer service teams in the industry, which will be a selling point for many business owners.
Another key point of difference with WP Engine is the developer-friendly features; open-source technology and readily accessible staging areas, making this a great choice for developers.
As per our key criteria, it is scalable so you can start small and work your way up as your traffic volume grows or feel confident you will be supported during those times your site traffic suddenly spikes. 
Even though it's a little pricey compared to others on the market, medium and enterprise-sized businesses (WP Engine's target audience) won't notice a fee that small and will find the service well worth the investment.
Benefits
Unbeatable security measures
Excellent uptime
Fantastic site speed
Quality customer service
Excellent technical support
Developer-friendly features
Drawbacks
There's no domain included
Higher prices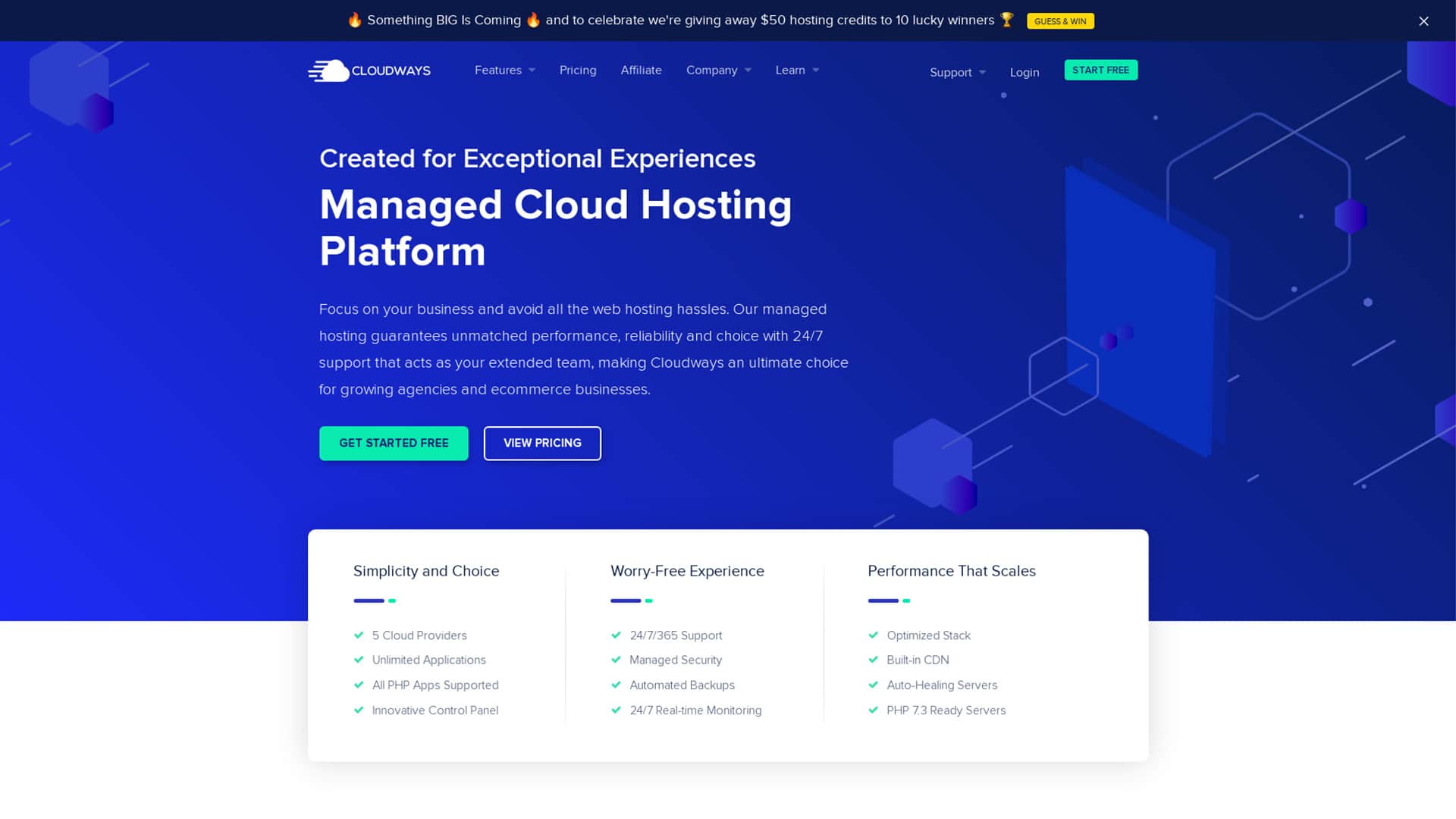 Cloudways
There is a lot to like about Cloudways, and we have used their service with a lot of our client websites. 
It offers flexible cloud hosting plans, fast setup times, excellent customer service online, and excellent uptime. 
The company offers a wide range of services that you can count on to keep your site functioning, and if there is an issue, their 24/7 chat support is always helpful. 
However, some people will not like the chat option of contacting customer service, which could be a deal-breaker if you prefer to phone and speak with someone.
Benefits
Simplified pricing
Cloud host variety
Performance
Chat support
Drawbacks
Complex set up
Limited trial period
Control panel is not user friendly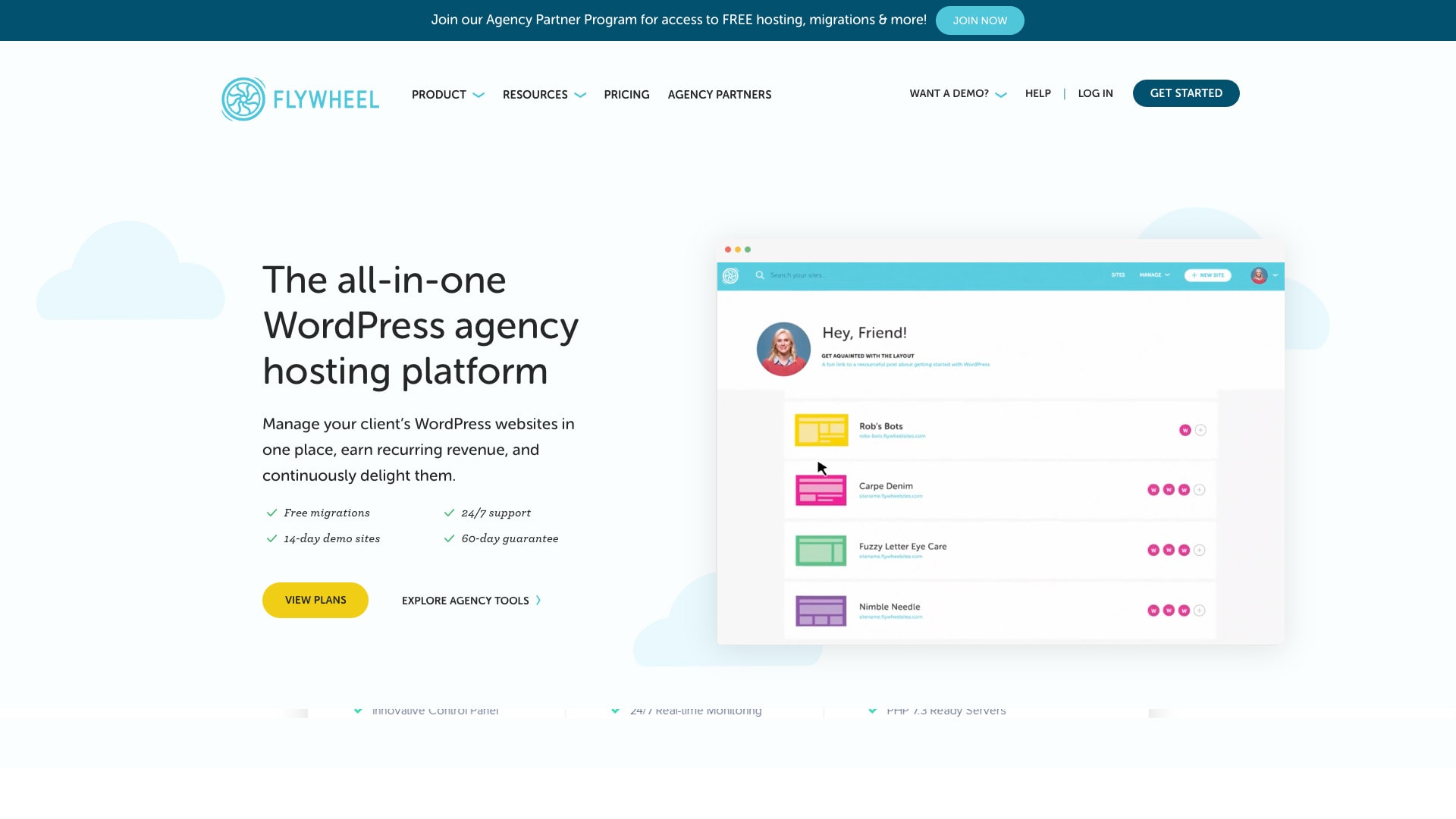 Flywheel
Your WordPress sites are kept safe, fast, and performing perfectly under the hood of their well-designed dashboard. Powered by the Google Cloud Platform, Flywheel's impressive hosting infrastructure gives your site everything it needs, and prices start at $13 per month, which is an excellent price for such a high-performance host.
Flywheel provides servers and services that are specifically designed for WordPress. Each server is optimised for a single CMS, so your sites will work efficiently and be secure.
As well as the servers, their managed WordPress offering has additional features like automated nightly backups and WordPress upgrades that help you maintain your site (or rather, Flywheel does so on your behalf). 
Plus, their 24/7 support team of WordPress experts are always on standby whenever you need help which gives great peace of mind.
Benefits
Robust, cloud-based infrastructure for consistent high-level performance
All new sites are now added to the Flywheel Cloud Platform (powered by GCP)
If your site gets hacked, their support team will help you free of charge
Drawbacks
It's impossible to access SSH because of the managed security
Does not have built-in Git deployment
You can install SSL certificates on Flywheel websites, but you can't buy them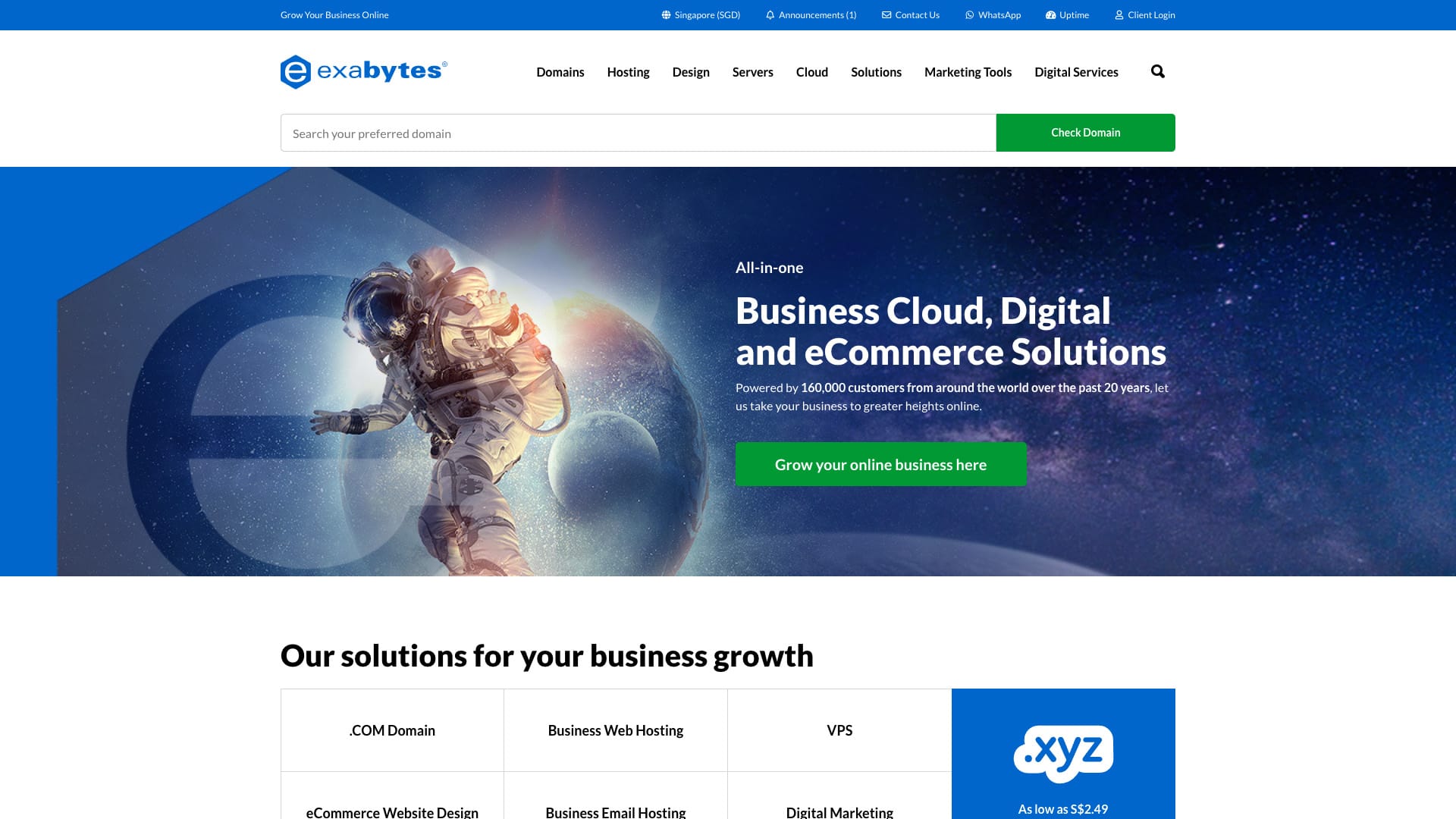 Exabytes
Founded in 2001 in Southeast Asia, and a favourite of businesses in Singapore, Exabytes helps businesses grow online at an affordable price.
Exabytes web hosting is an excellent choice for those who need unlimited bandwidth and flexibility at a reasonable price.
Additionally, the provider offers a user-friendly and comfortable interface, which makes it a good choice for small business owners as you can easily manage your website using the Web Control Panel. There are also self-support resources available, including video tutorials, a knowledge base, and a blog.
You can reach Exabytes via ticket, phone, personal office visit, or email if you need support, and as your business grows if you need to switch from a small to a large website plan you will find the required expert help at Exabytes.
Benefits
99.9% network uptime guaranteed
Affordable pricing options
Free SSL certificates
Fast Litespeed servers
Drawbacks
Only Asian servers
No phone support for US clients
Extra fees for add-on features
No free trial period offered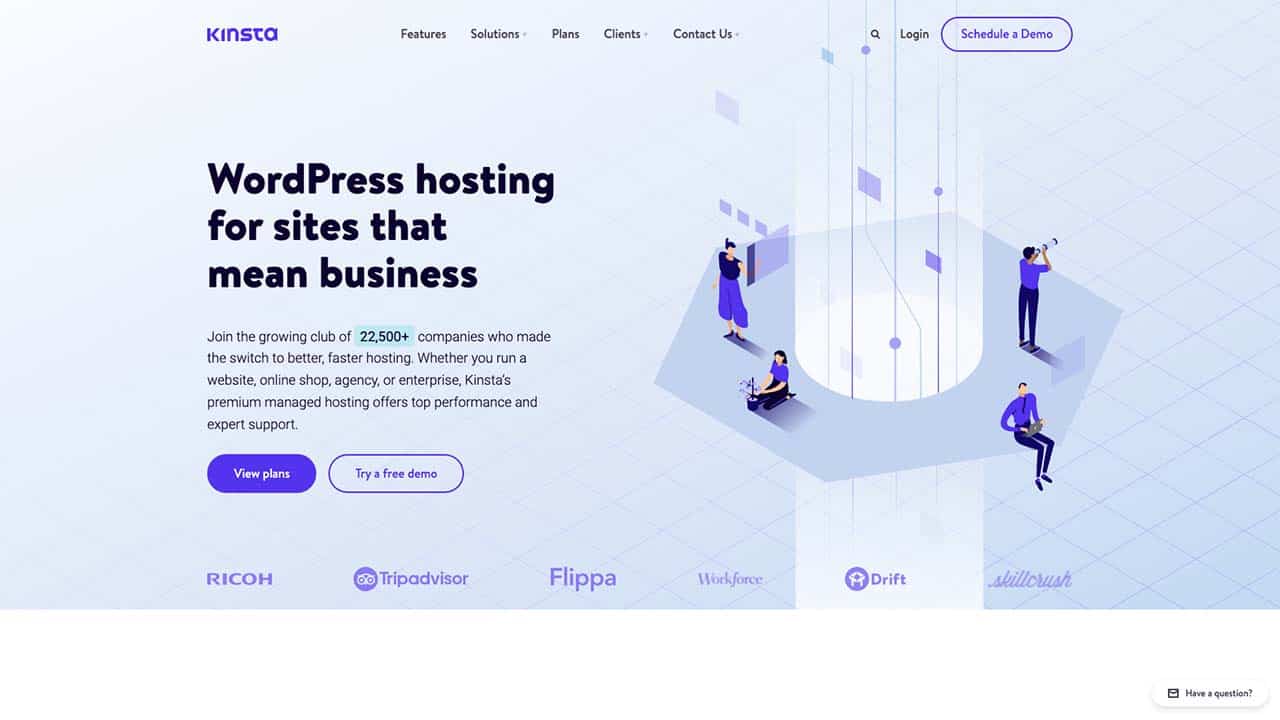 Kinsta 
Sitting in at $30 a month for the lowest-ranked package, Kinsta is the most expensive on our list, and for good reason.
This is a premium service with the best possible security. Each site is hosted within a 'container,' so that it remains isolated from the other sites close by, making it not only secure but also incredibly stable, no matter the traffic volume.
They can handle startups right through to towering enterprises and have clever automated services that take the service to the next level. 
These are just two examples of their many automated features:
PHP service monitoring with reboot actioned as soon as a failure is detected
Analyzes and updates databases for best possible optimisation
You will love that even huge traffic numbers won't affect your site's speed or reliability. Kinsta is aimed at large businesses who can afford the prices and will get value for their investment as having the reliability and peace of mind for a well-running website is essential at big business levels.
Benefits
Can handle high traffic (i.e. three million visitors per month)
Sophisticated enterprise plans 
Intelligent automatic optimisation 
Scaling friendly
Drawbacks
One of the most expensive managed hosting options
No phone support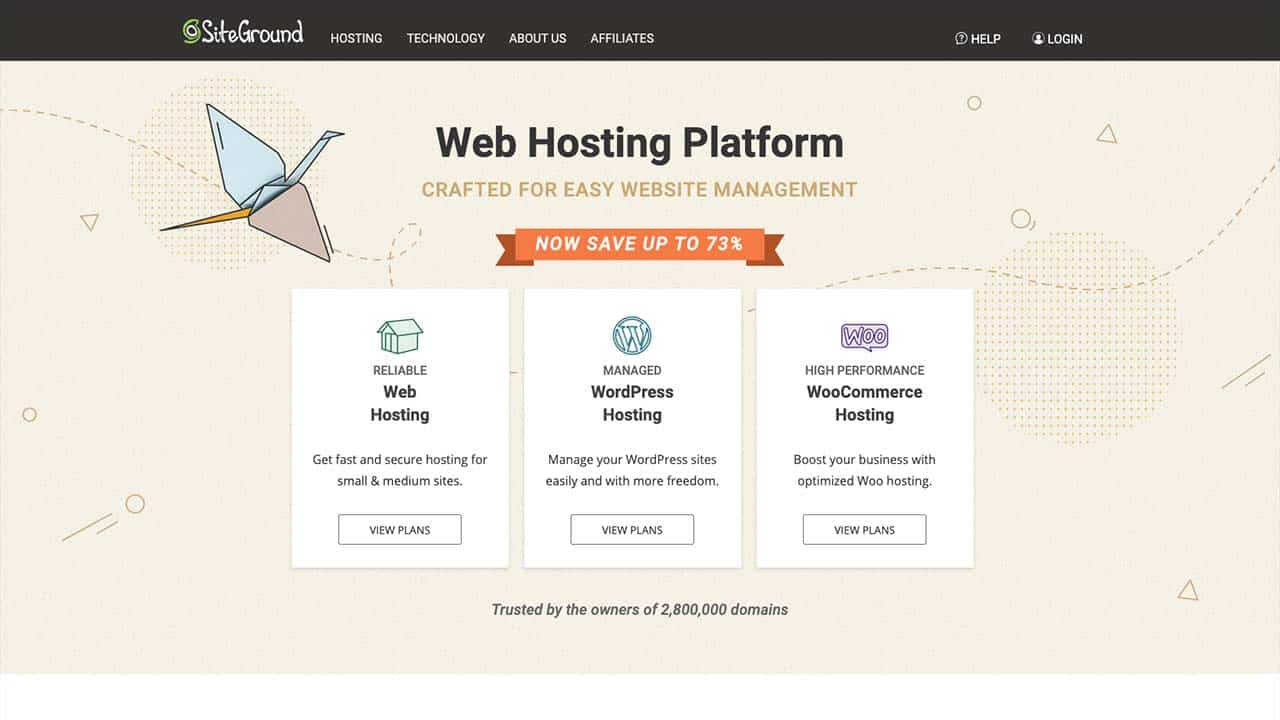 SiteGround 
This is the cheapest going plan starting at $4.99 a month and is the perfect option for beginners. Don't let the price fool you, SiteGround is not a two-bit service, far from it. Even the lowest package prices will see you connected to first-rate customer service and 24/7 technical support.
SiteGround grants access to fully-managed hosting plans at low introductory rates. 
The price is only introductory, however, after your first subscription expires the prices are much closer to their competitors. On the bright side, it is a great way to try the service for next to nothing before you commit to bigger payments.
Small to medium-sized businesses will love the user-friendly dashboard and the staff's desire to really help your business grow. They are scalable to an extent, but they can't handle really big business volumes.
Benefits
Affordable introductory hosting plans
Excellent site speeds 
Award-winning customer service team
Automated daily backups
Reliable hosting provider 
Dependable uptimes
Speedy caching system
Cloudflare CDN
Drawbacks
Renewal prices are high
Not able to handle large enterprises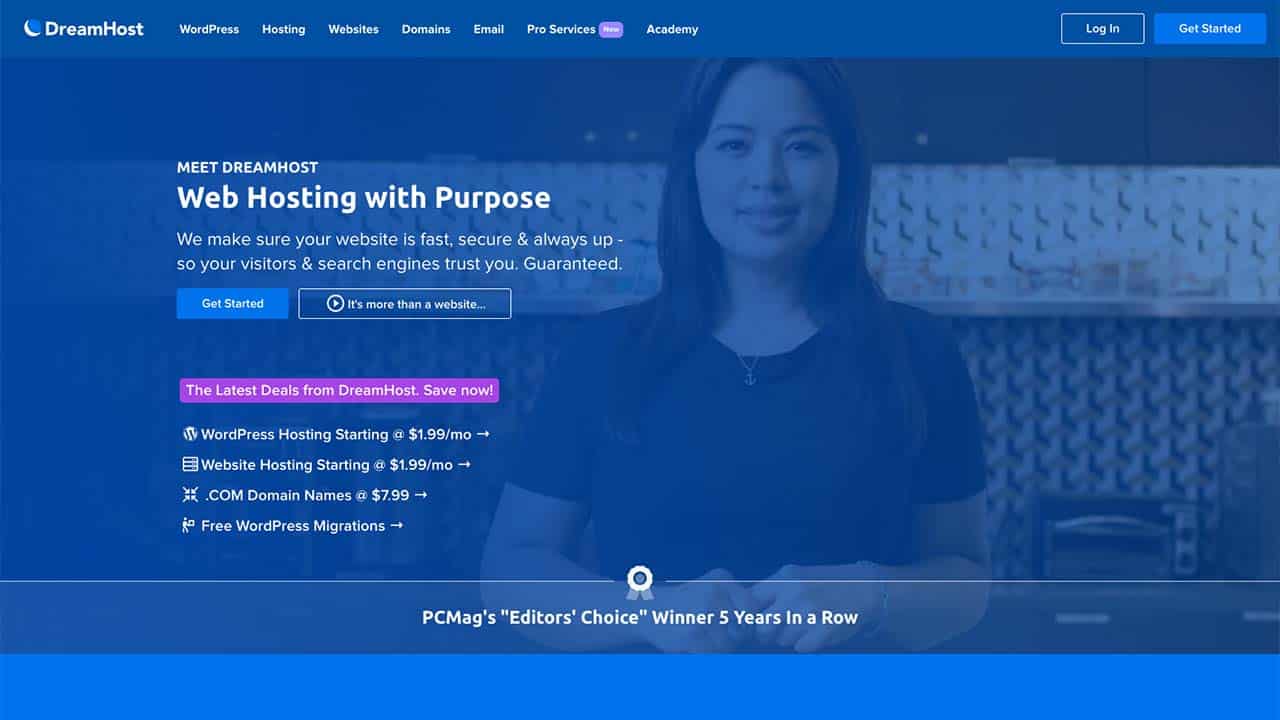 DreamHost 
Set at midrange with packages starting at $16.95 a month, DreamHost managed WordPress offers big bonuses that will be sure to appeal.
Value bonus: 
Plans suited to every business size
Scalable 
Daily backups 
Generous storage
Unlimited bandwidth
If you take up the upgraded plan packages you also get:
unlimited access to a CDN
additional monthly visitors
You'll love the one-click staging environment that gives you the opportunity to test-drive new features, and they have the Jetpack plugin and website builder as part of their advanced features, making this perfect for those looking to scale their growing website.
While there is a dedicated technical support team to assist you if you run into problems, wait times can be high, especially if the problem is server or CDN based which means lots of customers will be experiencing issues and calling in at the same time. 
Benefits
Value for money
Excellent site performance
Scalable 
Fits a huge range of business sizes
Drawbacks
Interface is not as easy to use as other hosts
Chat support can have long wait times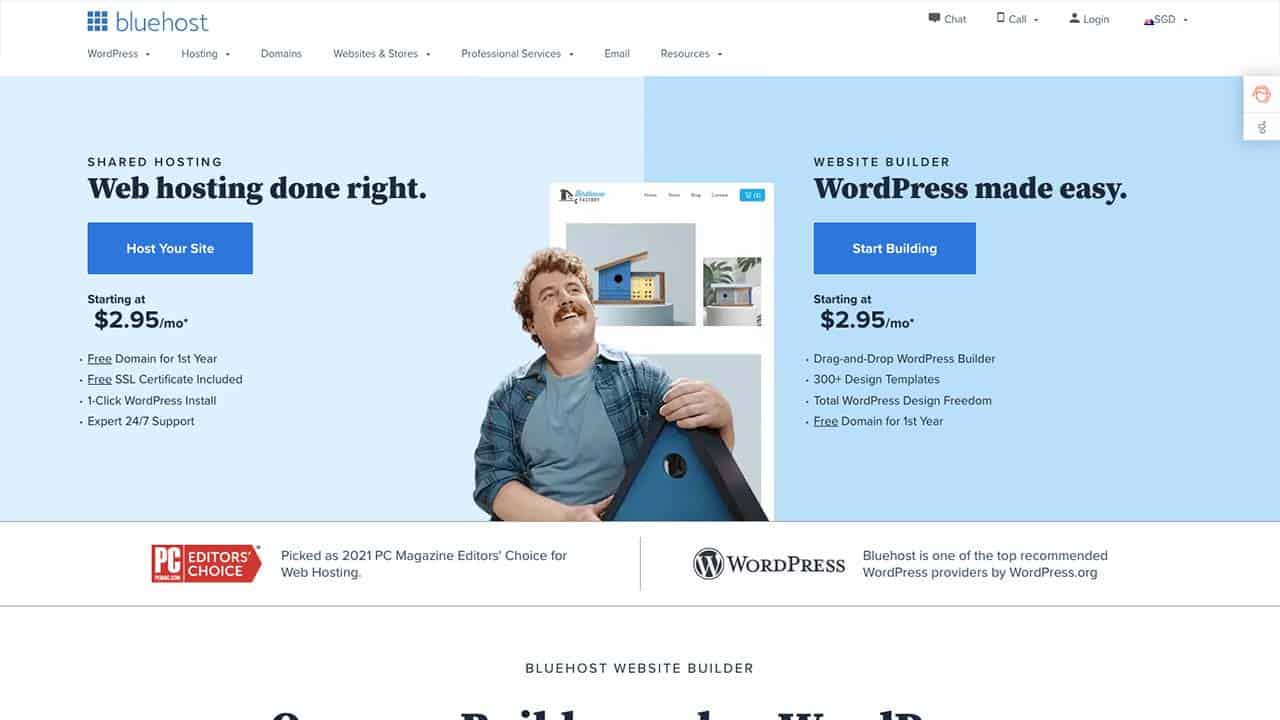 Bluehost 
Bluehost managed WordPress hosting is especially good for smaller sites and tech-savvy beginners. It's a great price with plans starting around the $10 a month mark.
It comes with a range of great bonus features including:
SSL certificate
One year free domain
Access to Jetpack
Reliable malware protection 
What makes it so beginner-friendly is the simple interface, so setting up and configuring your WordPress site is straightforward and stress-free, with an accessible technical support team on hand to help out if you do run into trouble.
There isn't a lot of storage and servers are pretty limited, meaning that if your website grows you're going to need to find a new host home.
Benefits
Beginner-friendly
Daily backups
Integrated marketing tools
Helpful 24/7 support that is easy to reach
Domain is included
Drawbacks
Smaller sites only (not especially scalable)
Can't support multiple sites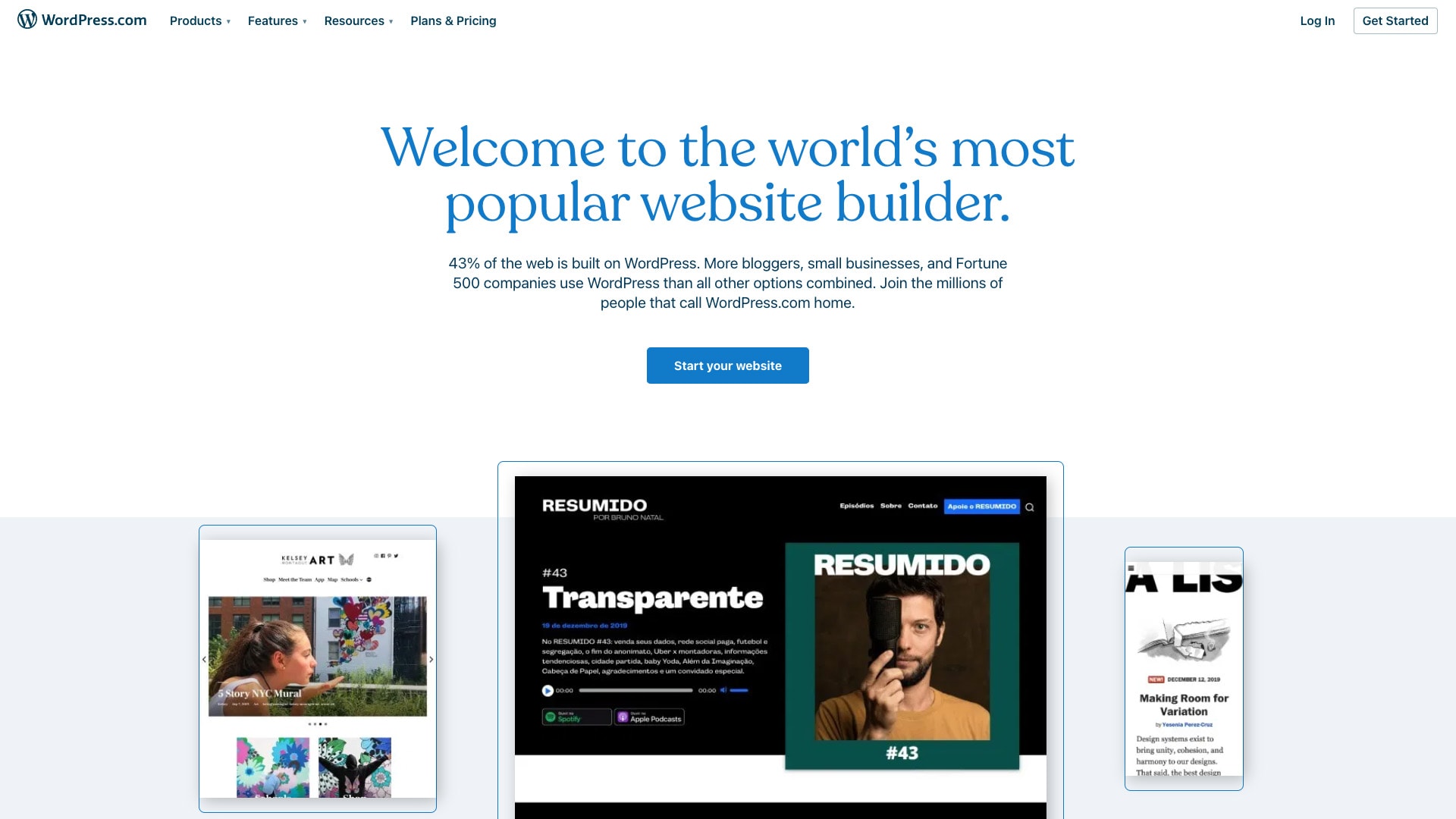 WordPress.com
For experienced website owners and small business owners alike, WordPress.com has often been overlooked due to its limited functionality. 
While it was great for bloggers just getting started, it lacked the punch needed to run a business.
With the launch of the WordPress.com 'Business' plan, a lot of the reasons why WordPress.com was not considered a serious web host have been overcome (including the ability to use your own plugins and themes).
Benefits
Now you have the freedom to choose themes and plugins
Support for custom code
Fully managed service
Automated website backups
Drawbacks
Lacks some features found with other hosts
Plugin restrictions
Slower site speed loading than many competitors
Summary 
If you are working with WordPress you are probably spending time and money on fixing technical issues. You can get a paid service with your website maintenance or you can choose to take up a managed WordPress hosting package.
We've given you a rundown on nine really great businesses you can choose from who have proven themselves in the industry and offer amazing package options for websites and what their services cover.
  The host and package you choose will depend on a number of factors including:
Your budget
Your business website size
How much support you need
How soon you need to scale
Taking these things into account will help you match the best host to your business needs.
If you have any questions on WordPress inclusive hosting or need help in understanding how to set up WordPress for your business or navigate technical issues, get in contact with the team at Chillybin today.
P.S. We are proudly hosted with WPEngine.