How we helped Woh Hup redesign their marketing site
Woh Hup has been able to integrate 90 years of experience in providing the finest construction services into the imaginative utilisation of information technology, progressive project planning, and management, allowing them to meet even the most strict standards of quality and safety standards.
Woh Hup's vision is to be recognised as the Employer of Choice in Singapore and the region and the leading and preferred contractor and business partner. To accomplish this, they commit to consistently improving and delivering excellent quality and dependable products and services with integrity to their valued clients through their team of trained, competent, and responsible employees.
Woh Hup engaged Chillybin to build a website that impresses potential buyers, resonates with ideal customers and new leads, highlights that they are a team of leading construction and civil engineering specialists, and guides them to take action to make contact with the company. Chillybin wanted to build a site that reflects the core values of the company:
safety;
integrity;
quality;
teamwork;
innovation; and
growth.
Chillybin had only one primary goal during the project—to redesign their website to accurately reflect who the people of Woh Hup are, clearly demonstrating the values they believe in, and establishing the company as the leading and preferred contractor and business partner all over Singapore.

The client wanted us to redesign the website to showcase what they have done and what they can do more prominently.
The website had to focus on the following goals:
Impress visitors with the wide range of iconic building and construction projects;
Attract potential job candidates that are interested to work in their field;
Have the website as the first point of interaction with Woh Hup; and
Guide users through the customer journey.
Ultimately, the website should be a useful resource for existing clients, potential new clients, and potential new partners.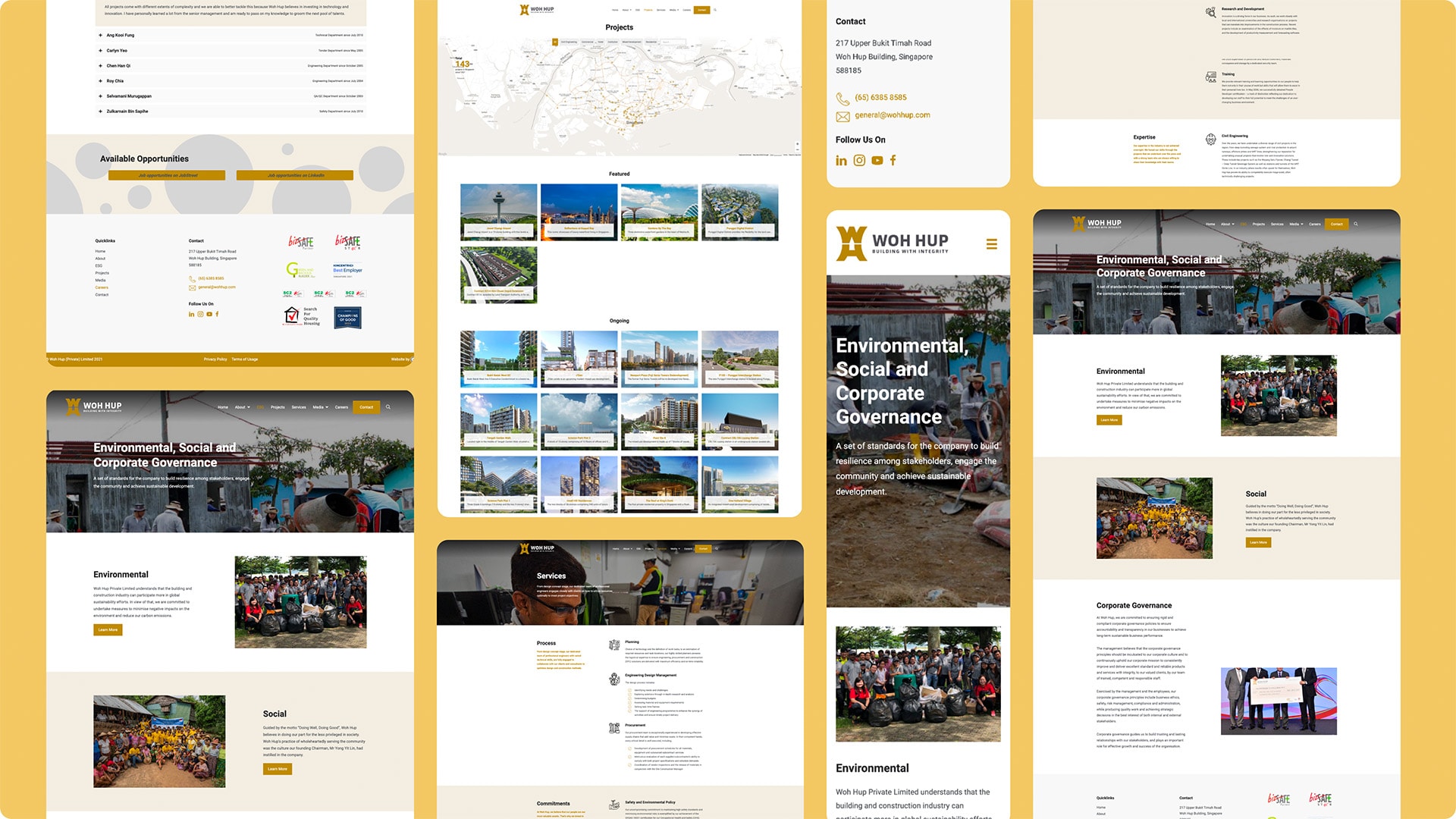 There are three key issues to be addressed to assist Woh Hup in achieving their target goals in their niche:
To build a website that will serve as a platform for Woh Hup's sales and marketing initiatives;
To attract new leads; and
To increase website traffic.
The main purpose of the website is to assist the target audience to do the following:
Find out more about Woh Hup from a company/corporate perspective;
Find out about the iconic civil engineering and construction projects;
Find out more about the services that Woh Hup provides; and
Find out about available positions to join the company.
These purposes were expected to turn the website into a valuable tool to elevate the client's status and position them as an expert authority and leader in the construction and civil engineering specialists sectors in Singapore targeting development partners as well as job prospects.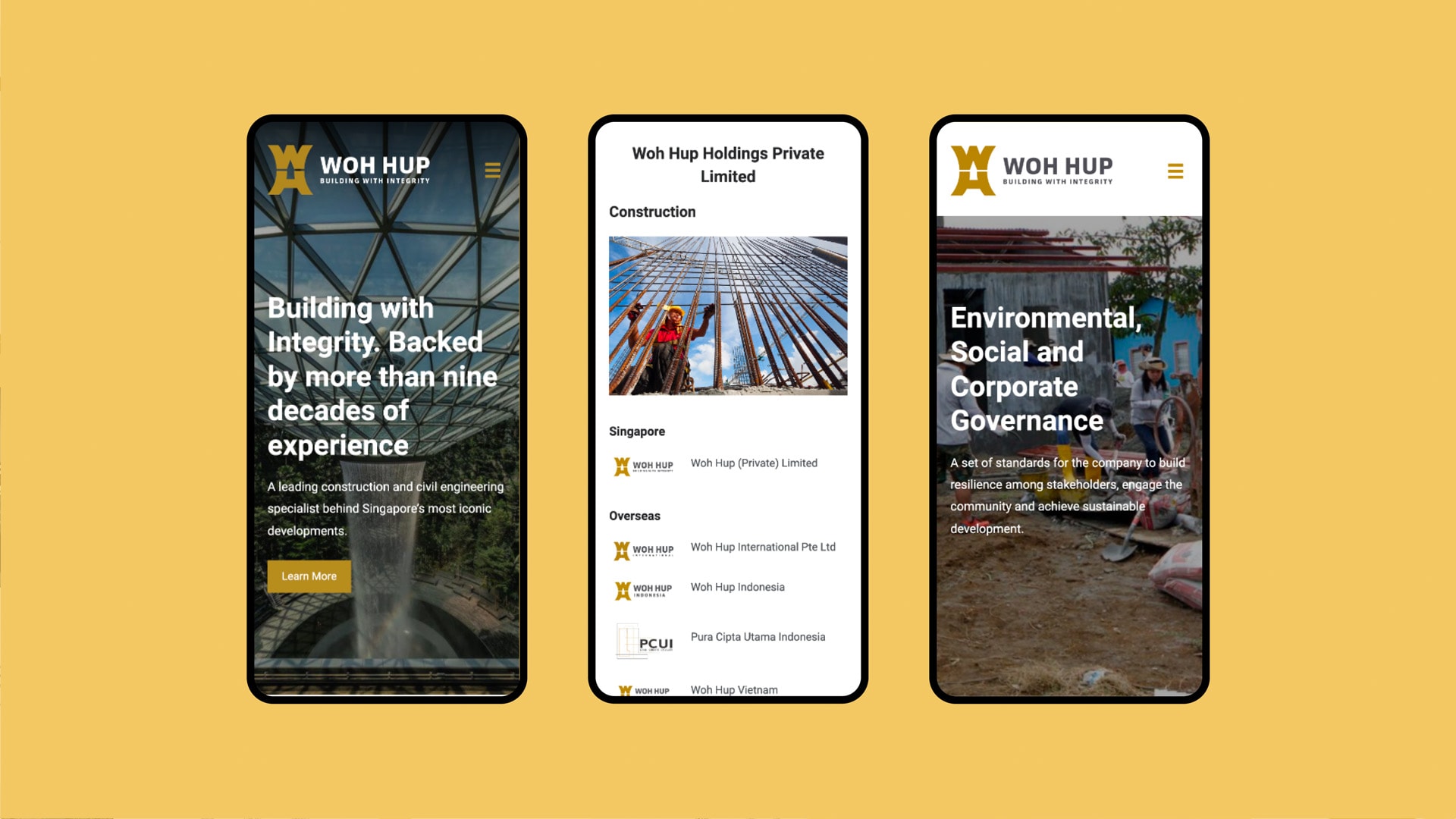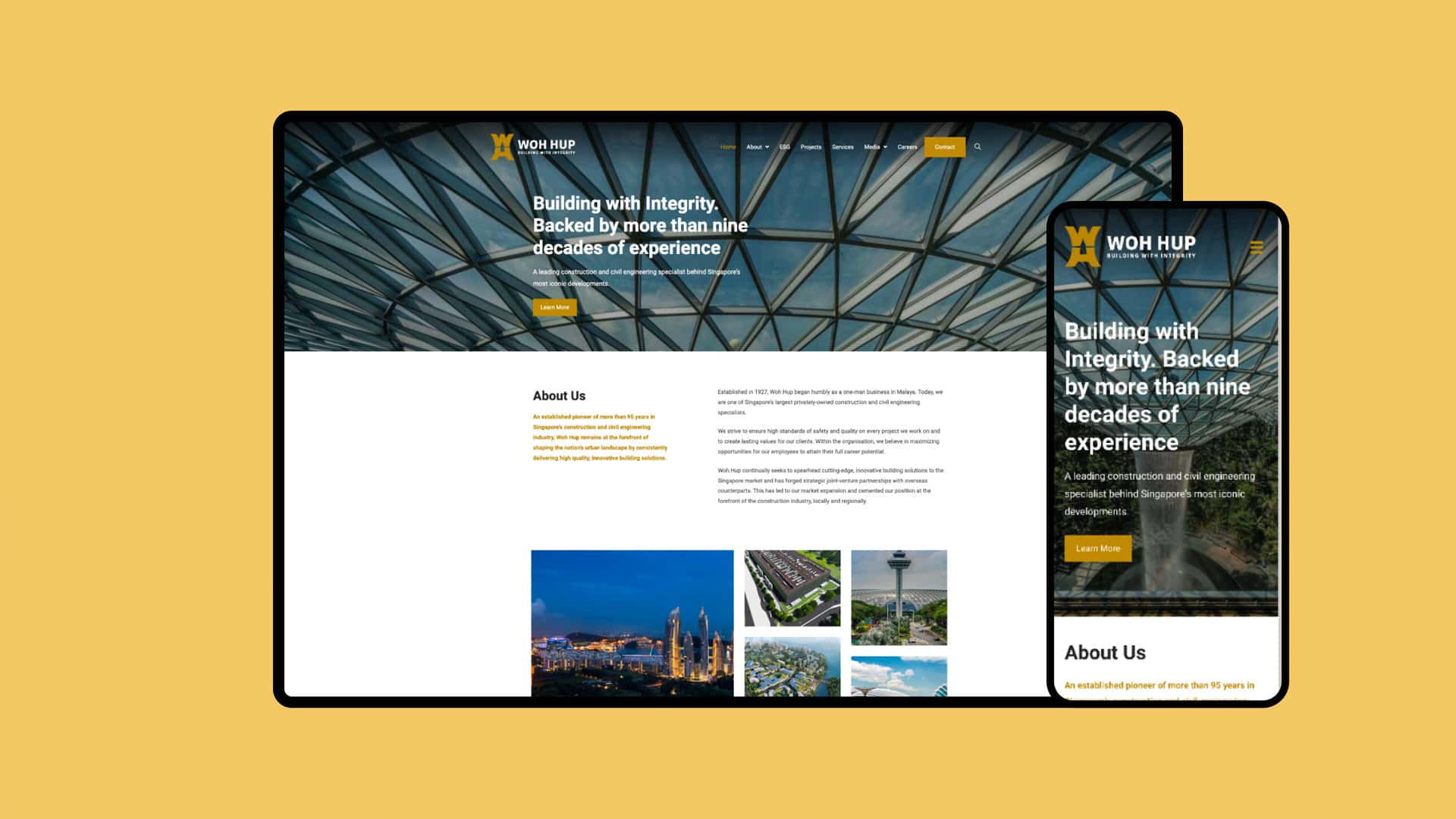 Chillybin built a visually pleasing website with a modern layout, clean design with whitespace, strong typography, a mixture of photos and illustrations, and mobile responsiveness. Hence, it adapts and offers a usable experience on multiple-sized screens.
We used seamless user flow patterns that benefit each type of website visitor. We also incorporated inbound/outbound marketing and social media tools.
Like most company websites, we added an area for testimonials, awards, acknowledgements, case studies, etc, to further establish a secure and capable image for Woh Hup.
Ultimately, Chillybin built a profitable platform that will deliver a massive return on investment to both Woh Hup and their clients.