Unmatched Digital Transformation at Raffles Medical Group
Raffles Medical Group is a leading integrated healthcare provider in Asia, and has facilities in 14 cities across Singapore, China, Japan, Vietnam, and Cambodia as well as offices in Indonesia, Brunei, and Bangladesh.
Since being founded in 1976 in Singapore, Raffles Medical Group has gone on to serve over two million patients, and has grown to a team of over 2500 staff.
Their mission is to enhance health and well-being by providing the best total healthcare.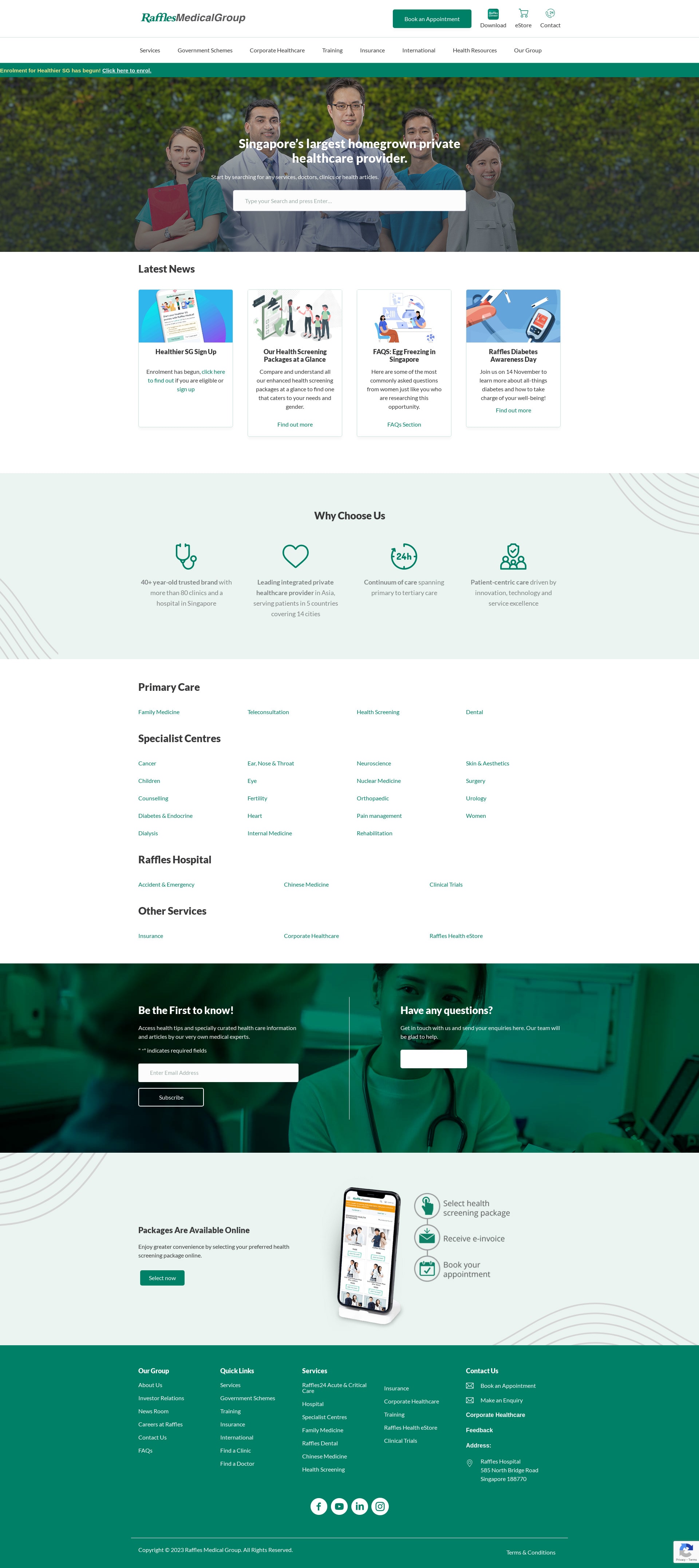 Raffles Medical Group is a global organisation with clients who expect a premium level of care from making a booking through to treatment, so we held extensive fact-finding sessions with several key stakeholders to ensure we dotted every I and crossed every T of the customer journey.
While many website developers would draw out the project to help add more revenue to their bottom line, we understood that in a fast-paced environment such as health care, bringing the Raffles Medical Group website up to and surpassing their competitors in the fastest possible time frame was essential.
A key deliverable was a seamless integration from the old site to the new site, ensuring no clients were negatively impacted – a single lost booking request could have catastrophic consequences for all involved.
The development team's main aim was to provide a rock-solid, powerful, and profitable platform that supports the group's sales and marketing initiatives so they could launch new campaigns and landing pages with less stress, all while delivering their clients a world-class booking process.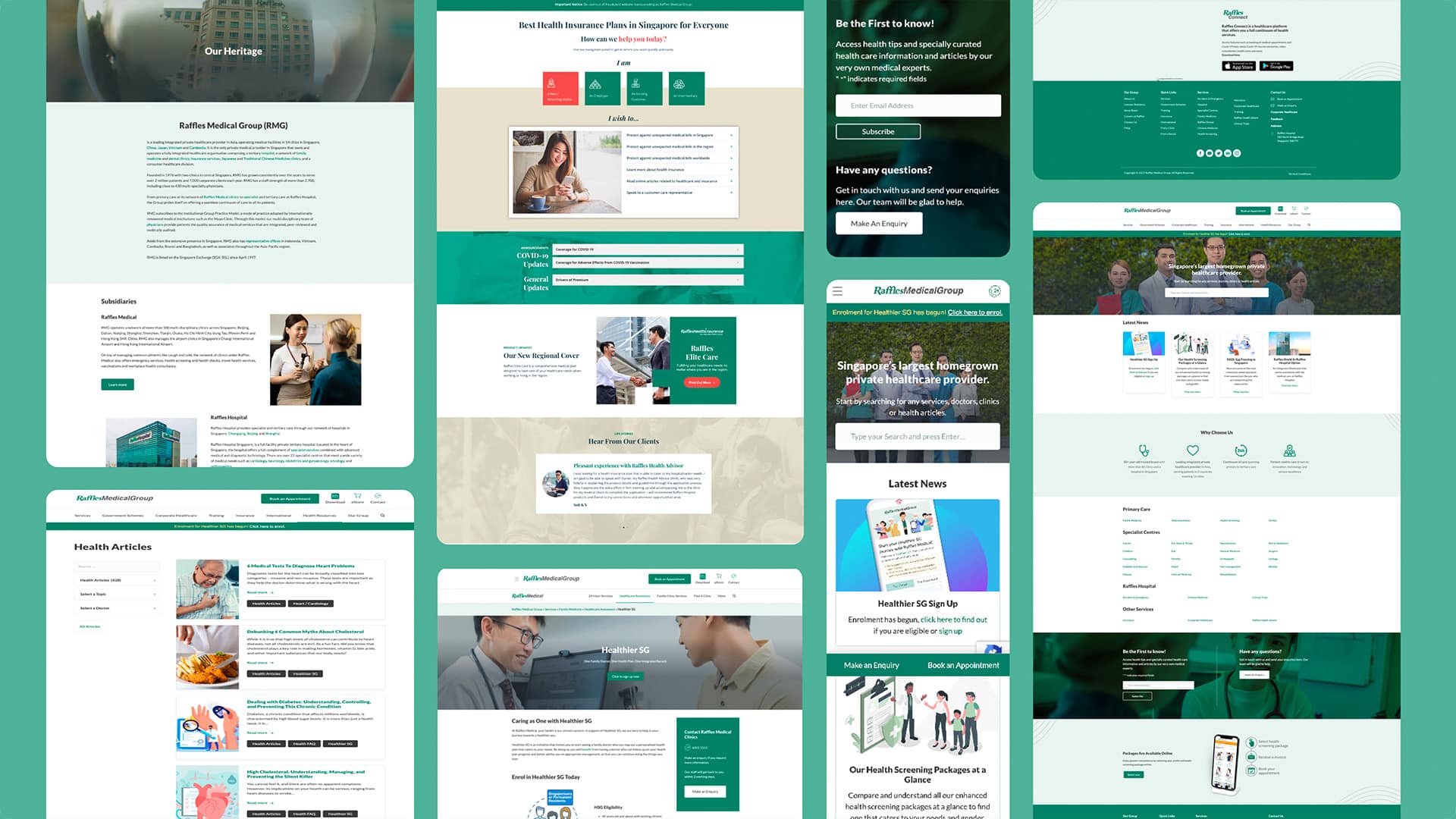 Three key challenges need to be overcome to ensure the group can reach its goal of attracting and assisting more clients.
From the imagery to the text, the website had to resonate with their ideal target market, helping them to quickly realise they were in the right place to get the help they needed.
The customer journey needed the correct flow, taking someone from the home page to the service they needed, concluding with the prospective client taking action by booking.
Trust is essential when booking a medical service and needs to be built quickly when someone is looking for a solution. Trust factors such as testimonials, awards, and affiliations must be shown subtly to help develop the organisation as experts who can be relied upon.
As well as these customer-facing challenges, there were several administrative issues that the existing website was giving the executive team, such as poor integrations and a lack of ability to track marketing efforts and results actively.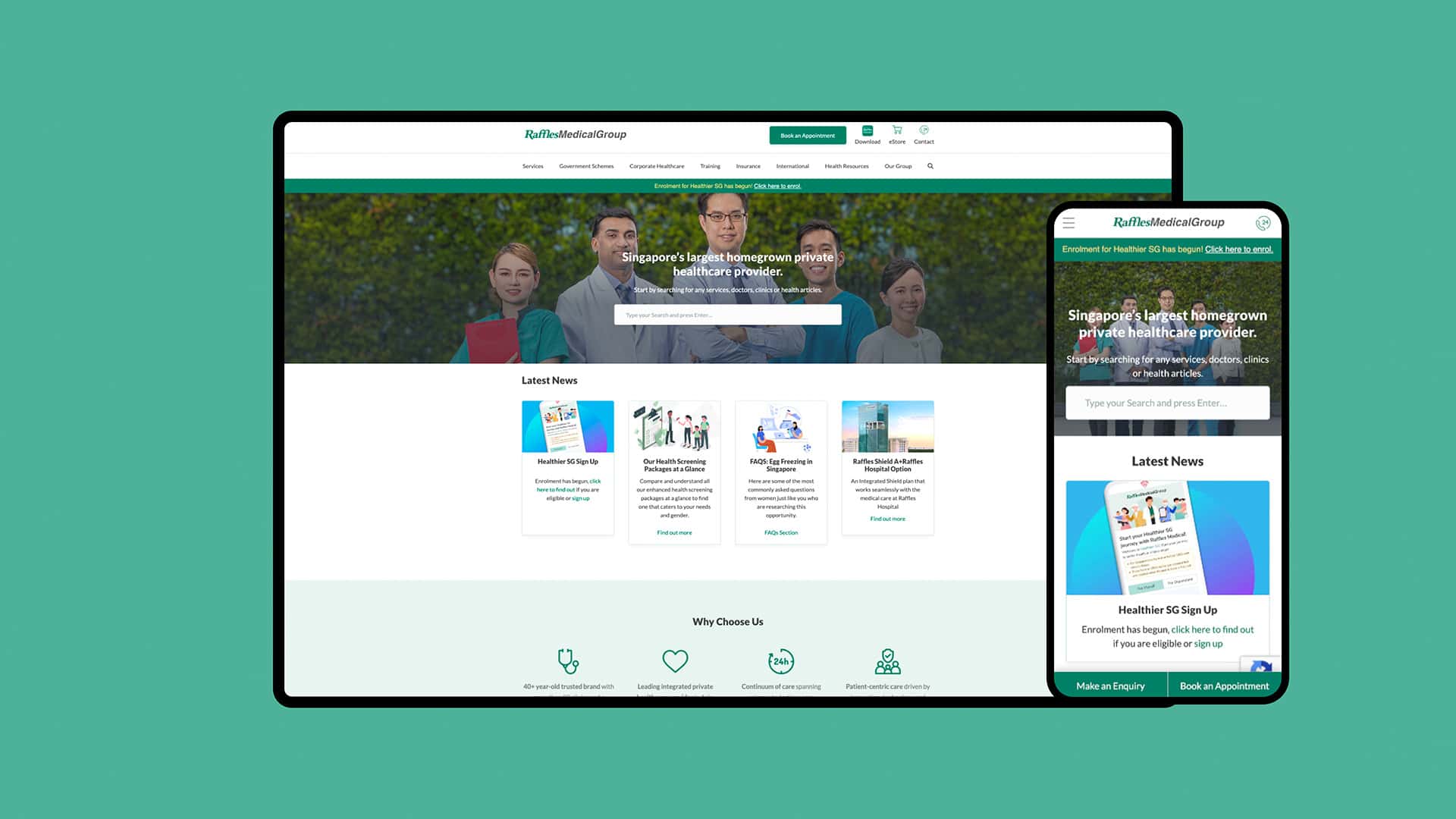 A fully integrated booking process, an intuitive design, and a robust back end that tracked every campaign and activation left Raffles Medical Group's key stakeholders wowed and their clients raving about how simple the booking process had become.
With Chillybin's top designers and developers on the project, the team delivered a custom, responsive, retina-ready, HTML5 WordPress child theme powered by the Beaver Builder Theme that meets current best practice web standards.
Strong primary and secondary calls to action were developed to help visitors who may need additional information before taking the desired action, and a clear call to action was added to every page.
Booking forms were fully integrated to capture and track information such as a doctor's ID and the selected health screening package.
Ongoing Hosting & Maintenance