Resurrecting and optimising a website without all the bugs
Founded on April 1st, 2020, Ongolo.com aims to change perceptions of Africa as a continent with little to offer people around the world.
Muloongo Muchelemba, the company's founder, has a goal for Ongolo to become Africa's premier marketing, media, and public relations firm.
However, when it came to their website, they were taken advantage of by a US-based website developer that built them a poor-performing site that was full of bugs, was bloated with unnecessary plugins, and regularly broke.
Ongolo.com is a Pan-African thought leader and ideas blog with the goal of changing the perception of Africa as a continent with nothing to offer Africans or the rest of the world.
The blog covers economics, entrepreneurship, events, innovation, leadership, and lifestyle, among other topics. It reaches a global audience of people who are passionate about Africa and have a genuine interest in it.
Initially, Ongolo engaged ChillyBin to undertake an audit of the website, ONGOLO.com. The original website had a lot of bugs, in addition to the common problems new websites encounter, which basically rendered the website impossible to use and maintain. These issues included:
Jetpack was disconnected after encountering issues with the plugins;
A cluttered dashboard made the website impossible to navigate;
Too many unnecessary plugins slowed the site down;
An unusable eCommerce page;
With a lot of content to offer, Ongolo's website needed to present their articles cleanly and support a smooth user experience.

The Ongolo website needed to effectively promote African success stories, put Africa front and centre in driving solutions to world problems, promote talented Africans and people of African descent, and provide an accurate depiction of Africa.
The team at Chillybin wanted to help them achieve these goals and become the leading marketing, media, and PR firm in Africa by designing a responsive website that elevates Ongolo's status and positions them as an expert authority and leader in the pan-African new sector.
Ongolo needed their website fixed and they needed it to happen quickly. While Muloongo had been able to fix some of the problems created by the previous website developers herself, some of the problems just wouldn't go away, and with her busy schedule, she didn't have weeks to spend searching for fixes.
With slow pages, a broken store, and Jetpack causing other parts of the site to break, there was a lot of cleaning up and culling needed to make the website lean and mean and ultimately profitable.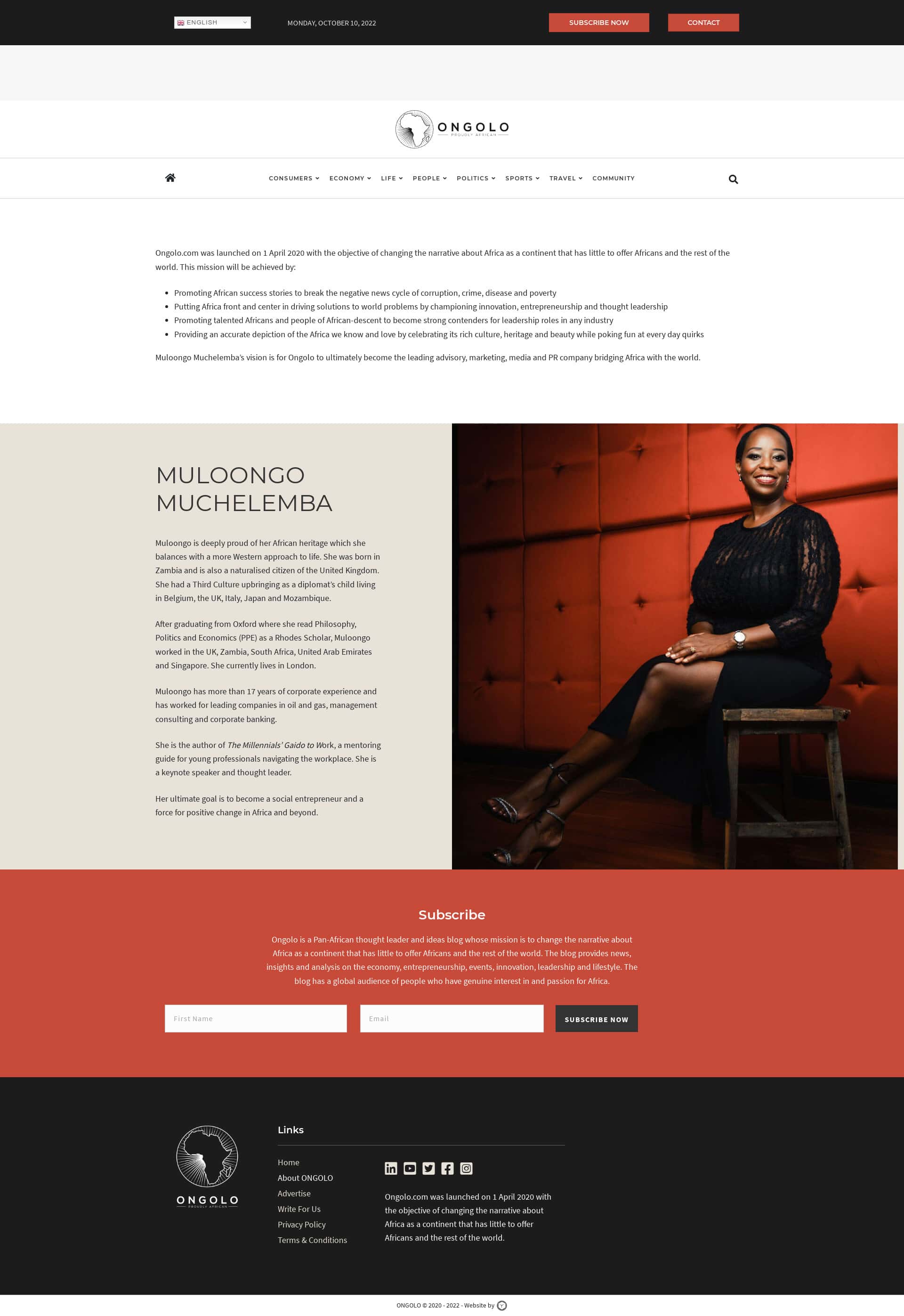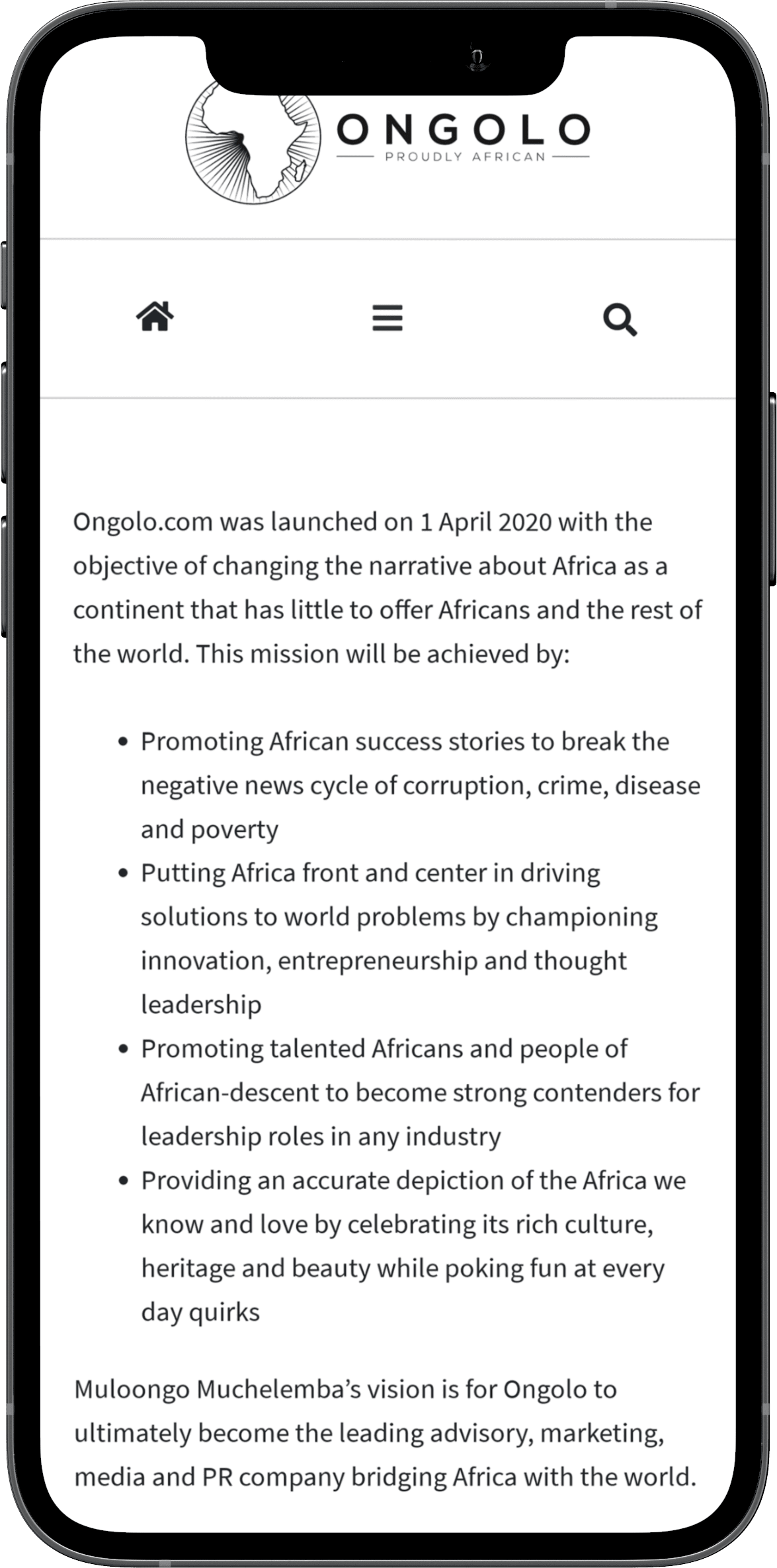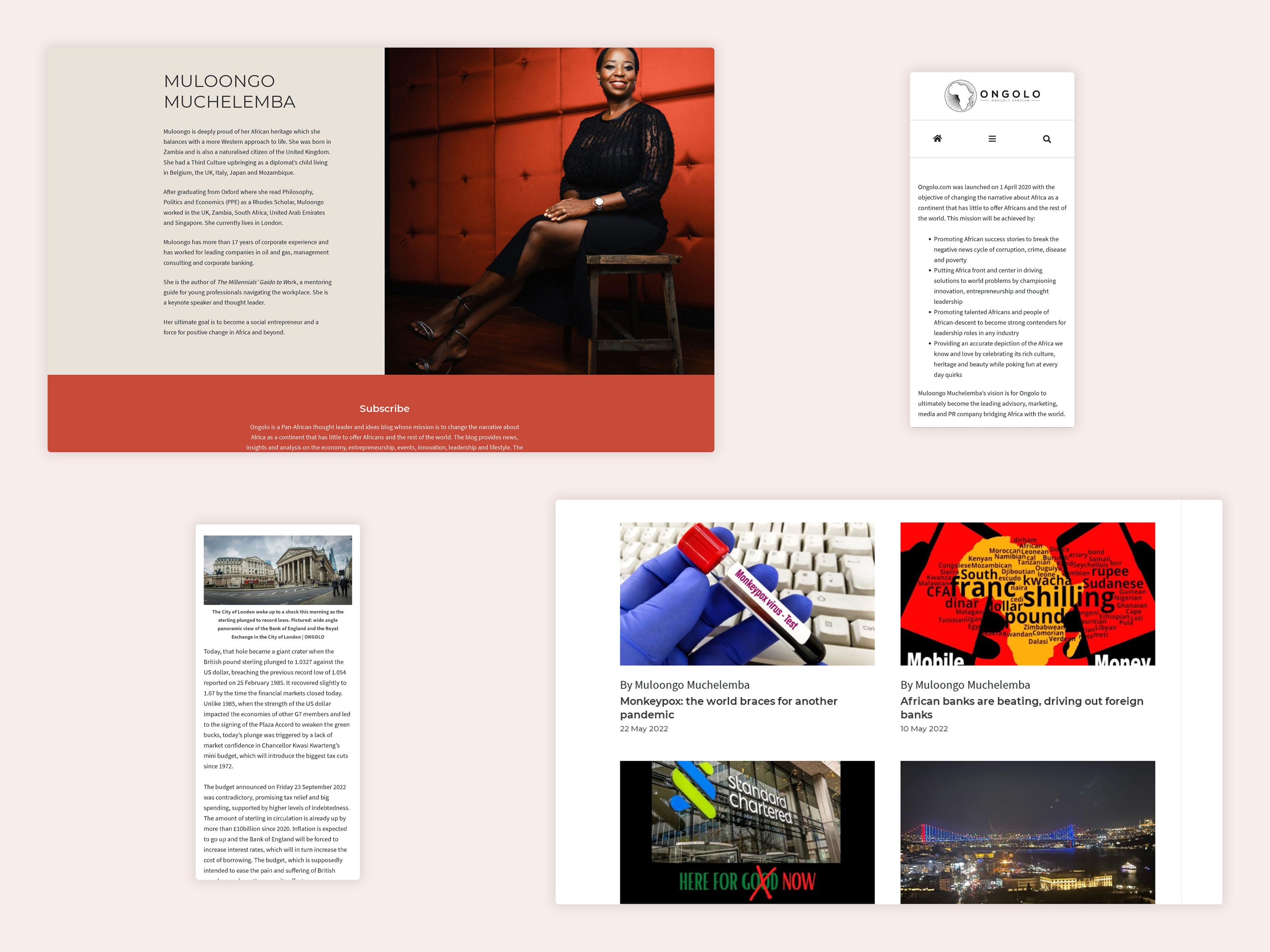 The updated website is clean and responsive, and streamlined in the back end to make it faster in the front end.
With the issues fixed quickly, we also moved the website to a higher-performing Cloudways hosting plan that quickly improved performance, and more importantly, search rankings.
A 'classifieds' section was then built as an additional revenue stream where people can list events, and we integrated a Covid tracker as well as an intelligent birthday and events listing, plus market prices for mining, commodities and currencies making the Ongolo website a one-stop-shop for the latest information in Africa.
Finally, we were also able to give the team at Ongolo in-depth training sessions to help them understand their website, and how to add content effectively - a key skill when running a news website. This has helped Ongolo to become the cultural heartbeat of African news and opinions and the go-to website for updates from the region.
As Mulongoo noted, with website development, you often get what you pay for…
Chillybin cost me more than the cowboys but they delivered a superb website and used the best WordPress tools out there. Given the headaches I got before by building my website three times on the cheap, I will never make the mistake of not using professionals.
After overcoming the initial problems caused by cowboys, getting the site stable, and adding functionality that improved user experience, Ongolo then opted to utilise our Website Maintenance & Support service to keep their website humming 24x7.