Homepages That Engage Their Visitors
Raffles Medical Group have an engaging homepage with a strong call to action. They have 'book an appointment' in green at the top and a big search bar right in the middle, making it simple for visitors to take action. We look at why this is a crucial ingredient of web design here...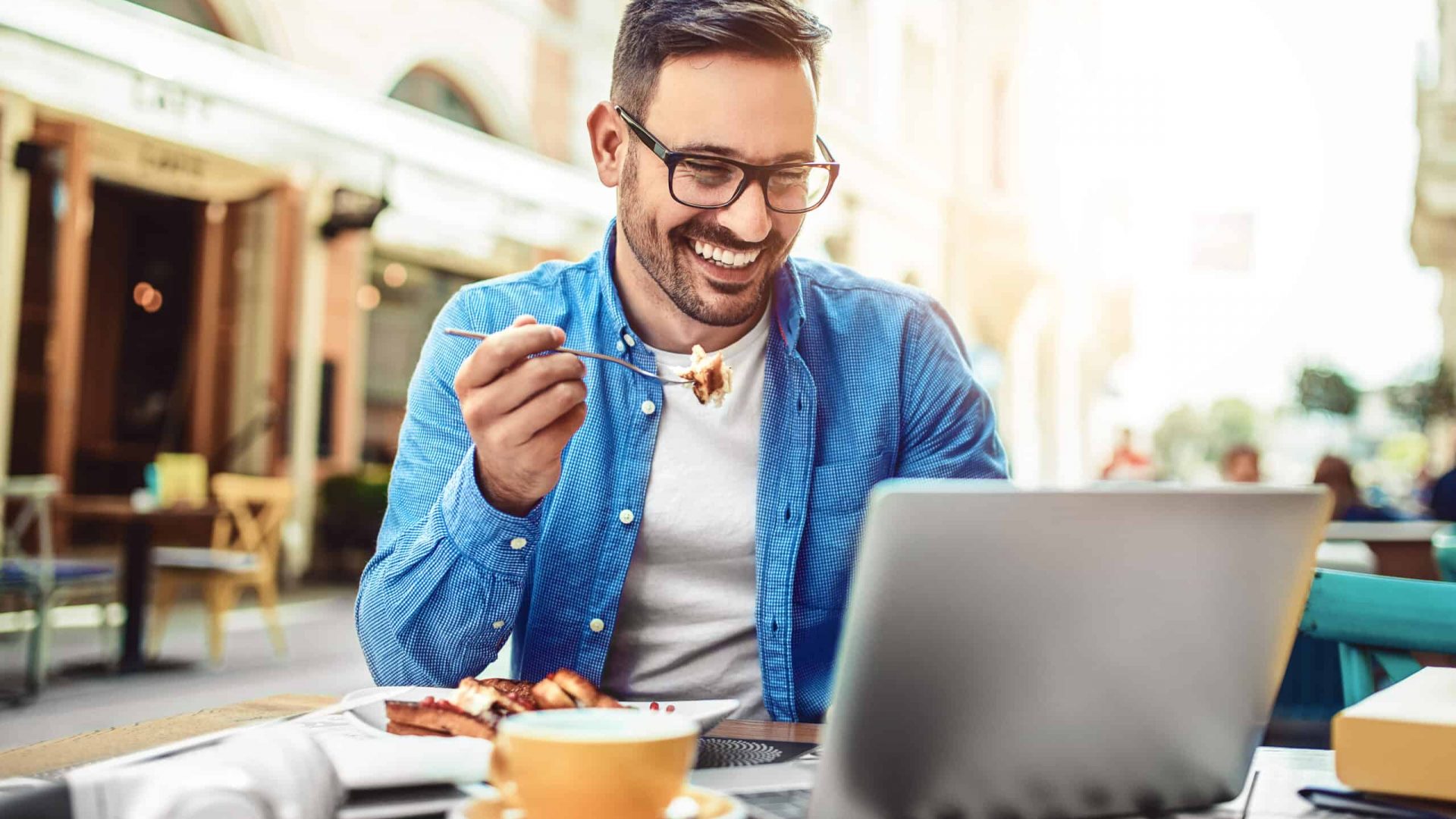 Your website is not just an online address you have to look like a modern company, it's your brand. This is where people come to get to know you and see if they like you. Your reputation is at stake as well as your business legitimacy. Your homepage needs to be engaging, even if it's simple.
Why an impressive homepage is essential
First impressions stick in people's minds and colour everything else they experience afterwards. Studies show that first impressions are formed in 5 to 7 seconds, and online is no different.
You have just five seconds from that first link click to capture your visitor's attention, which means what you offer needs to be clear, friendly, relevant to your business and speaking to your customer on their level.
A business selling grand pianos would have a very different look and tone to one selling car parts or baby food.
One of the big mistakes people make on their homepage is they fail to make what they do clear! If you're not clear, why should people stick around and try to work it out?
Here are some big things to avoid if you want that first five seconds to be engaging:
Mess. This can come from too much colour, too many images or poor formatting or font choices.
Confusion. This comes from too much text, too many links, conflicting information or irrelevant images.
Adopting an overly formal tone. Flowery language, outdated speech or elaborate language misses the mark when it comes to having your visitors feel safe, connected and on the same page.
Here are some examples of homepage structures that give visitors a positive first experience.
1. Bold headline
Start with a big bold header that captures what you do in a few words, or at best, a sentence or two.
This should answer your visitors' basic questions and guide them to other pages to get additional details.
With your headline choice, be clear and keep it simple. You want your visitors to know what your website offers in only a few seconds.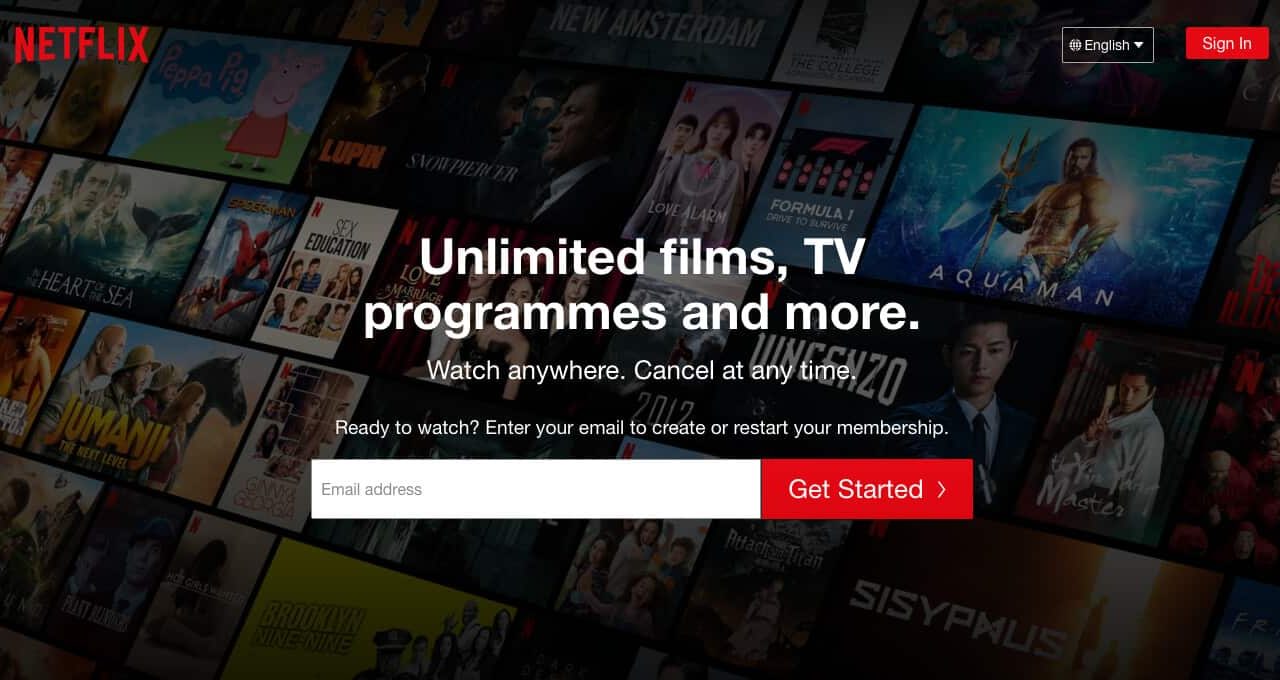 Here are some examples of homepages that are simple and effective:
Netflix: Unlimited movies, TV programmes and more. Watch anywhere. Cancel at any time.
Apple: Displays their most current product by name, tag line, price and stunning image.
e.g. iPhone 12. Blast fast past. From $1,199 before trade-in.
Products: if you offer a number of different products on your website a Featured Posts Scroller might work for you. It enables you to showcase a handful of products but spaces them out so only one is visible at a time. This cuts back on mess and confusion while allowing you to open your focus to more than one item.
2. Easy Navigation
The proven rule for effective website engagement is three clicks (or less) from homepage to sale, so that will either be your product page or services page.
Some companies choose to have all sales handled in person, in which case they direct people to contact information or an online form.
Whatever it is for your business you want to make sure your visitor can get their needs met quickly and efficiently.
Any help you can provide in terms of Buy Now buttons, links to product pages or easy to see menus will help keep your user engagement high and have visitors stay on your page for longer.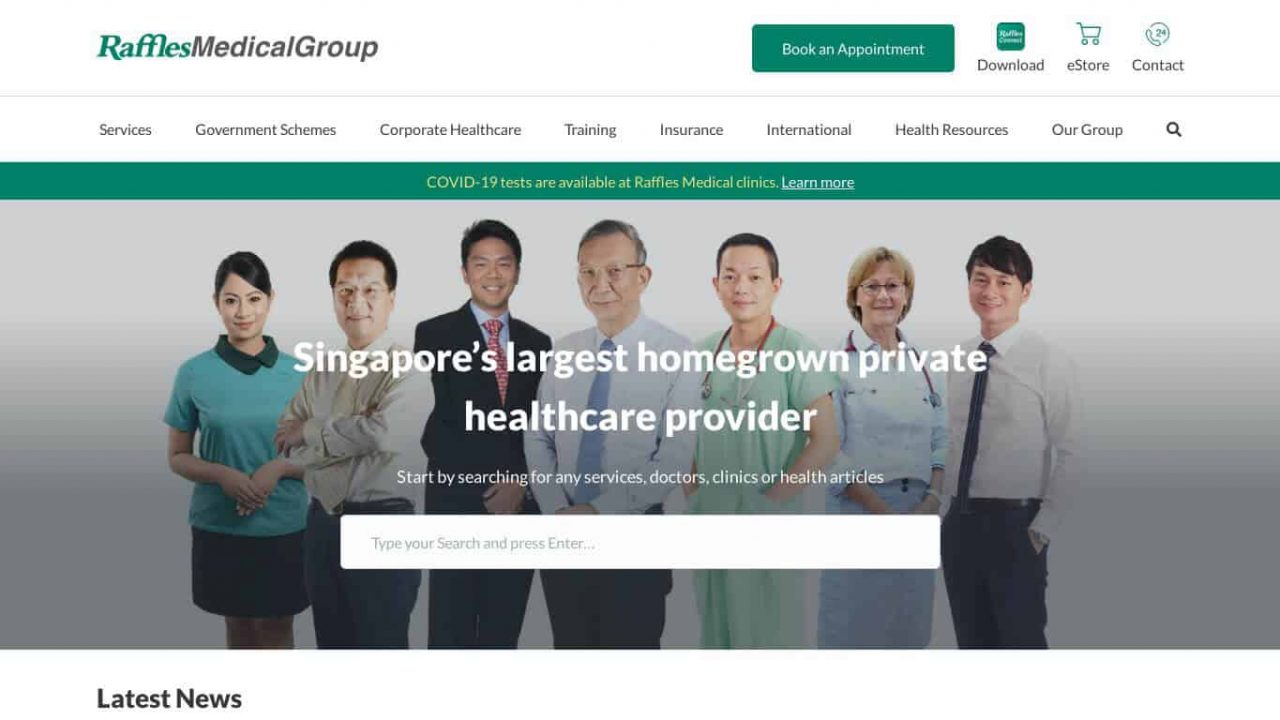 Check out this example: Raffles Medical Group
They have 'book an appointment' in green at the top and a big search bar right in the middle, making it simple for visitors to take action.
If we also continue with the example of Apple's website; their home page showcases each of their most current products and provides a direct button linking to this product there and then.
It makes their top-selling products their focus, with all other products easy to find through the dedicated pages listed along the top on the homepage. Simple, clear, direct and empowering for the user.
See How Chillybin Web Design Can Drive Massive Amounts of Traffic to Your Website
SEO – drive people who are ready to buy directly to your website.
Content Marketing – our team of native-English speaking writers will craft articles that position you as THE authority in your niche.
Paid Media – pour fuel on the fire with paid ads that produce a steady stream of leads for your business.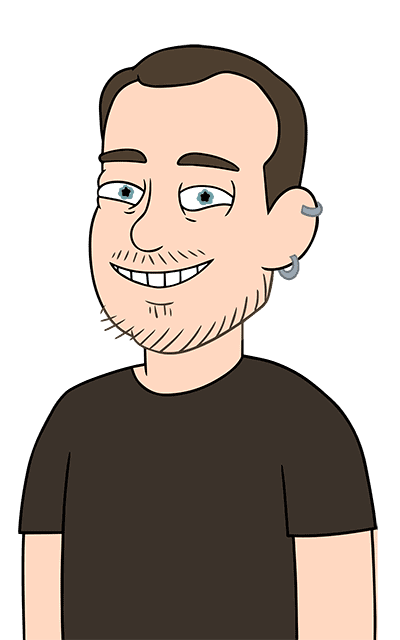 3. Design
A good, clean design eliminates those trouble spots of mess and confusion.
White space is crucial to a good homepage design and a clean look.
You want your layout to have balance and be in line with your brand look and feel.
Include your logo (unaltered or specifically designed for web use) and stick to a colour theme to tie it all together. Consistency is key here so find a layout and theme that works and stick to it.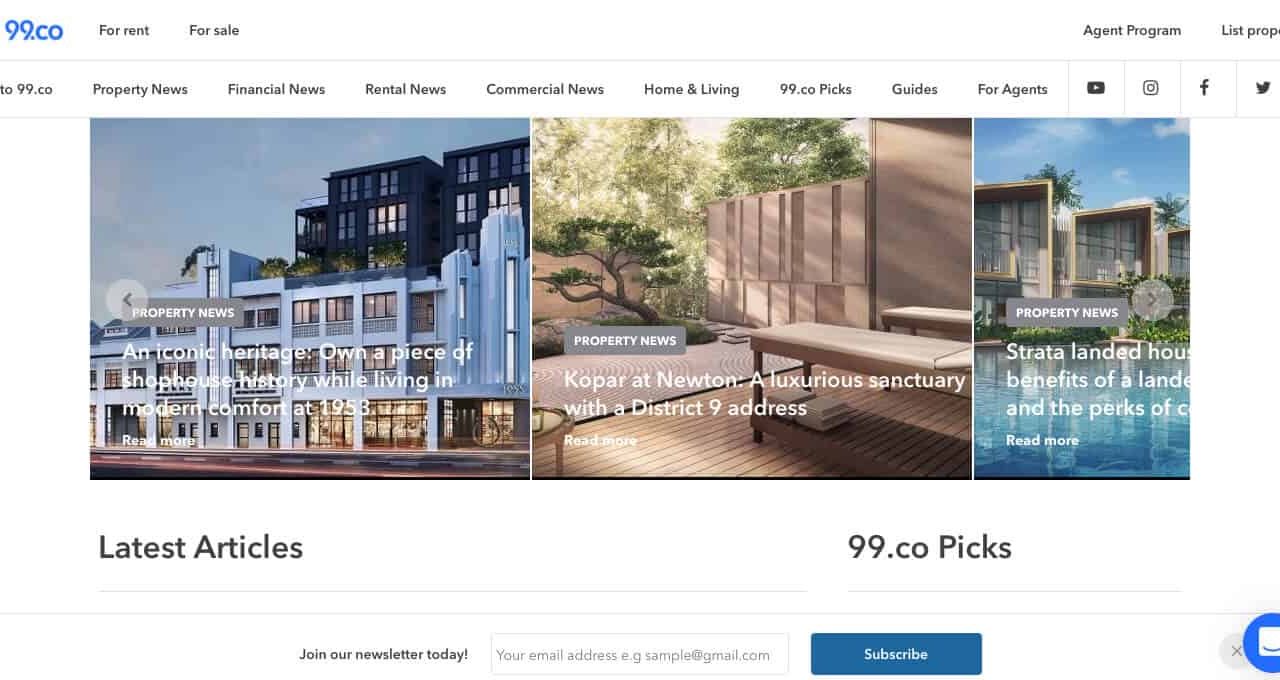 Check out this example: 99.co
They utilise all these great design strategies for a clean, professional impression.
Design also includes readability. Make sure your text is in high contrast with the background and is easy to read, even at a glance.
4. Call To Action
A Call to Action (CTA) is a great way to engage with your visitor and get them started on their journey with you. It requires your visitor to complete a specific task. A CTA works best when there is a gain for the user and little or no risk or commitment.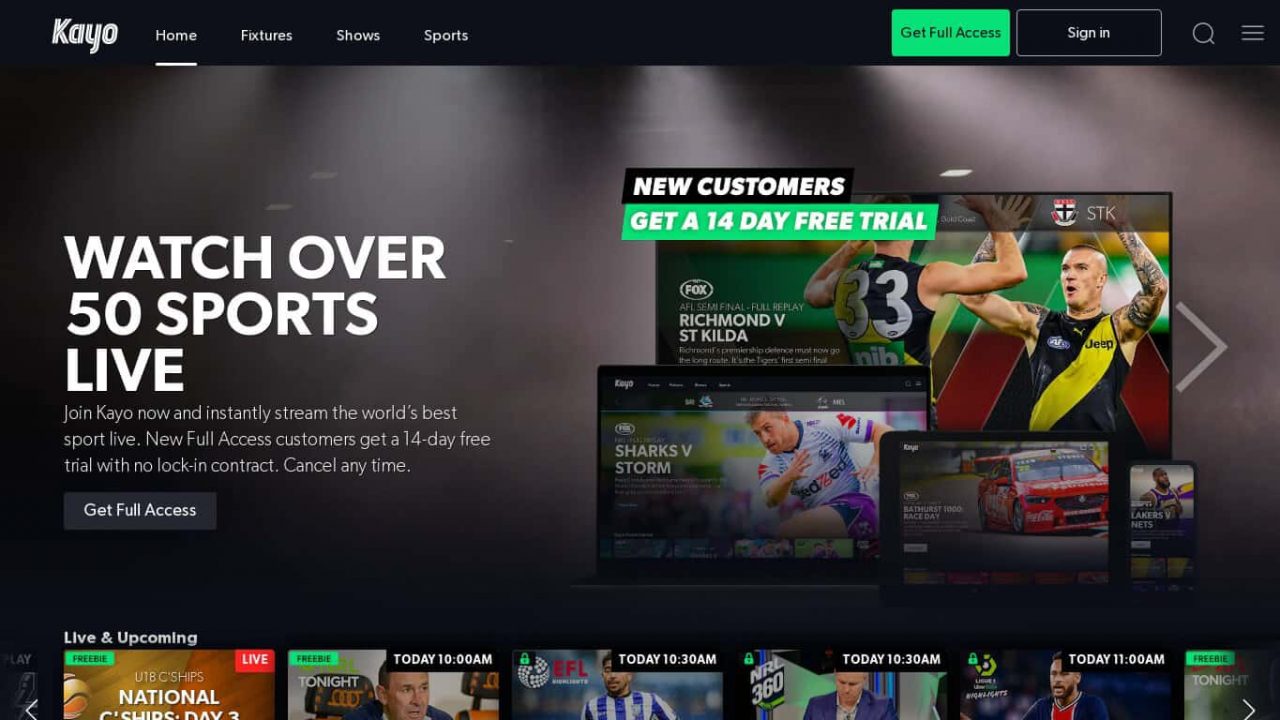 Check out this example: Kayo
They offer a 14-day free trial. It shows how many live sports they have, plus it's easy to see the sports available.
Some well used CTAs are:
Free trial periods
Buttons for Buy Now or Sign Up Now
Money-back guarantee
Bonus offers for immediate purchase (such as discount or upgrade)
Subscriptions
Contact us
Keep in mind, a call to action can sometimes be non-purchase related, such as simply making an appointment for a future service.
You are looking to place your CTA in an easy to see yet logical location, it might feel too aggressive to have a CTA upfront, give them a moment to see who you are before you make an offer for them to take action. Under the headline is a great place to start.
Be attractive. You need your CTA to look appealing so go for high visual appeal with colour, perhaps a button or image that fits well with what your business offers.
Some calls to action are wordier, which can work better as dedicated landing pages, asking for a sign-up. Be brief and focus on the end goal for the user, and what they get out of it. You want to entice your visitor to follow through so make it attractive and risk-free.
Traffic and Likes: A call to action can also be used as effective engagement methods on blogs to get more clicks on your website. In these CTAs you can prompt people to leave a comment, click through to related articles, or sign up to your database for newsletter updates.
5. Cater to a wide range of senses
We use our senses to engage with our environment. It comes as no surprise then that the senses come into play for the virtual world too.
As well as providing information, you also want to provide images and sound which can be achieved through photos, video, music or sound effects.
Videos are a fantastic engagement tool that allows your viewer to get to know you, your business or your products in detail.
To be able to see you or your products in action is a personal and reassuring step.
For this to work you need to remain relevant to your brand. Choose images that directly relate to who you are and what you offer.
While it might be tempting to use generic images it is always better to be upfront and honest with your visitor by showcasing your office, your staff, your products and you.
This personal touch will have an incredibly positive effect, especially if they see you in person or visit your business site at a later date. This re-enforces trust, reliability and authenticity. You might also find it useful to stick to your brand's colour theme to create a feeling of harmony from end to end.
Many stock photos of people have a cheesy, fake look that you want to avoid at all costs.
A great example of a powerful and emotion-inducing video is TWG Tea. The use of decoration, focus, narrative and music showcases the history of tea as well as their knowledge in creating it, leading to an experience people desire and enjoy.
They also make this more personal and intimate by using video of Taha Bouqdib himself, in a setting that looks to be his office. We are invited into an intimate personal space and taken on a scenic journey that is vivid and inspiring.
TWG Tea also demonstrates a fantastic use of headlines, calls to action (a discount code for 15% off if you download their app) and visual appeal through colour and stunning teapot photos.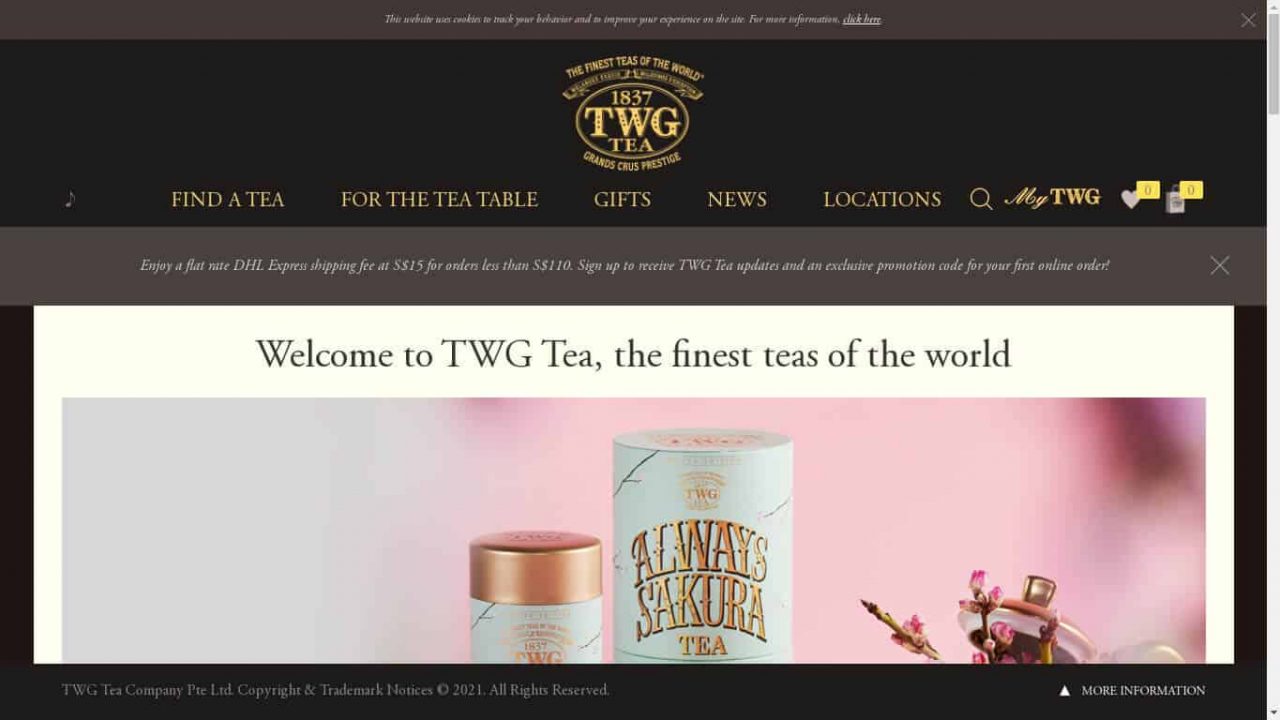 6. Solve problems and answer questions
Once you have introduced yourself in a captivating way it's time to go into detail with your content text. This is where you answer any questions your visitor may have and demonstrates the solutions your product or service brings to their lives.
To do this well you need to have a solid understanding of what your visitors' problems and challenges are.
Your product or service itself will solve a problem so outlining what you do and why you do it will not only cover the basics, it will also be relatable and engaging for your reader.
Be sure to use the right language. Adopting the right tone will engage your reader.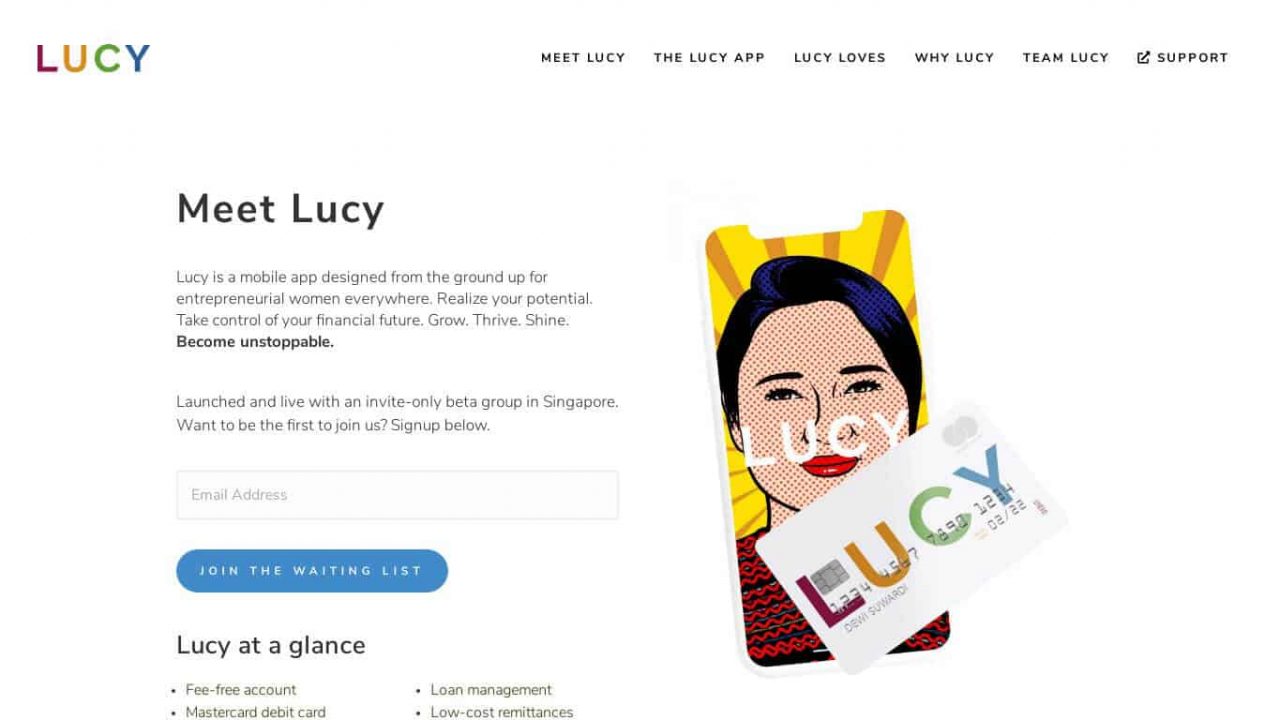 Check out this example: Lucy
They use language that is exactly right for their target market.
On your homepage, this can be as simple as listing the benefits and features of what you offer or providing a brief and clear example of the gap that you meet.
SG Homemade website for baby food has wonderful baby themed graphics to illustrate the benefits of food powders: whets the appetite; nutrient booster; easy consumption; tackles selective eating.
This addresses caregivers fears and difficulties when it comes to feeding time, and highlights the benefits clearly and simply. They follow with a second, also simple graphic that demonstrates real ingredients: no salt; no msg; no additives; no preservatives.
This addresses the need for parents to provide healthy foods for their little ones and overcomes the problem of not having a market saturated with added ingredients for children.
They also use their signature red, to reinforce the brand, and select graphics that are fun and likable.
7. Reviews and testimonials
One element that is essential to build with your website is trust.
Your visitor wants a safe investment of their time and money. They want proof your system, product or service will be worthwhile.
The most convincing way to achieve this is by providing living proof. Customer reviews and testimonials are real people giving their honest feedback on their experience with you.
To make this credible include names, location and dates (with their permission of course).
E.g. "I saw results in only five days!" Tiffany from Orchard, Jan 2021
Video testimonials or photos are a great way to increase engagement and credibility as well as providing a relatable and personal touch.
For this to be really powerful it needs to be about your current business and services so keep it up to date and make sure you ask happy customers if they would like to supply a testimonial to post on your website.
Also keep an eye out for positive feedback you receive and ask if you can make this public. A satisfied customer is usually happy to help you promote your business.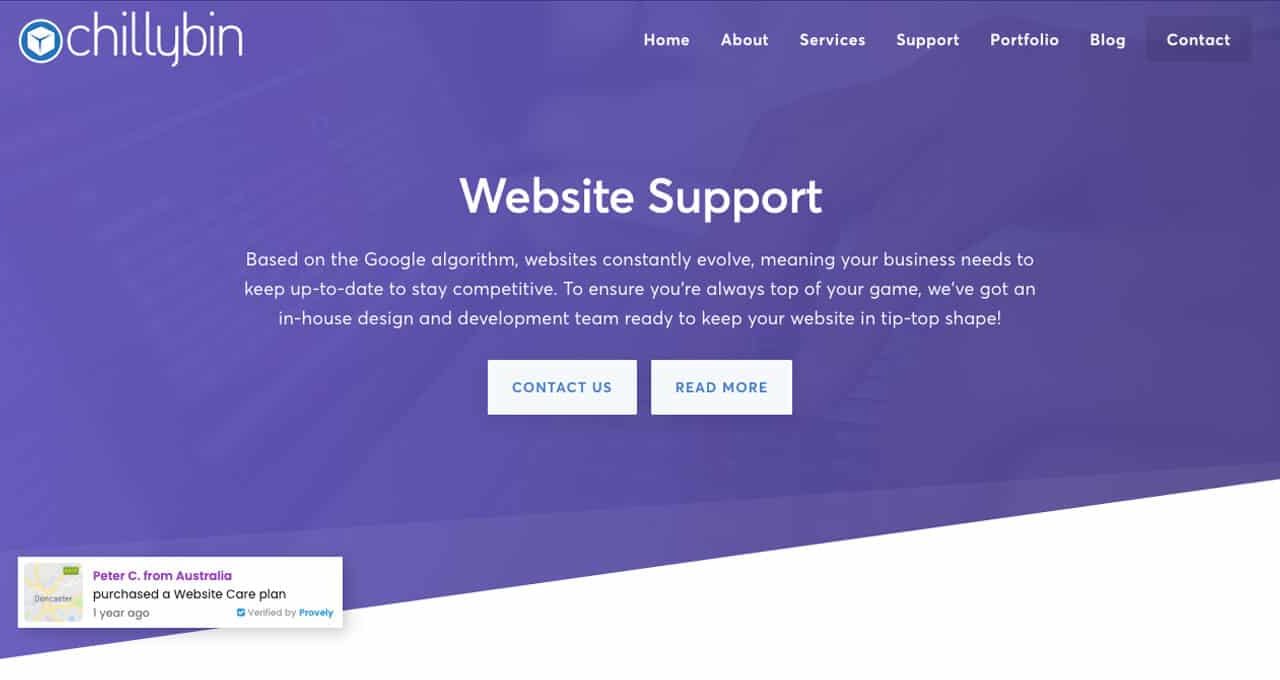 8. Business milestones
This one is similar to social proof, this is business proof.
If you have won awards (or even been nominated for an award or received recognition in some way), display it on your home page.
Any third party acknowledgment that speaks highly of your business is important proof that you are a trusted brand in your industry.
Other business milestones can include
Long service or running time
High volume of products sold
Business expertise
Business partnerships or affiliates of notable brand
Highlight any accomplishment that sets you apart from your competitors. This provides a first impression of reliability and trust and gives you concrete credibility.
Singapore Airlines offer a 'News' section on their homepage (a format which adds further credibility) and lists headline articles which are always positive, highlighting new technology or business success.
These are presented in date order and are always current. Visitors can click on the article to read into it if they want more detail.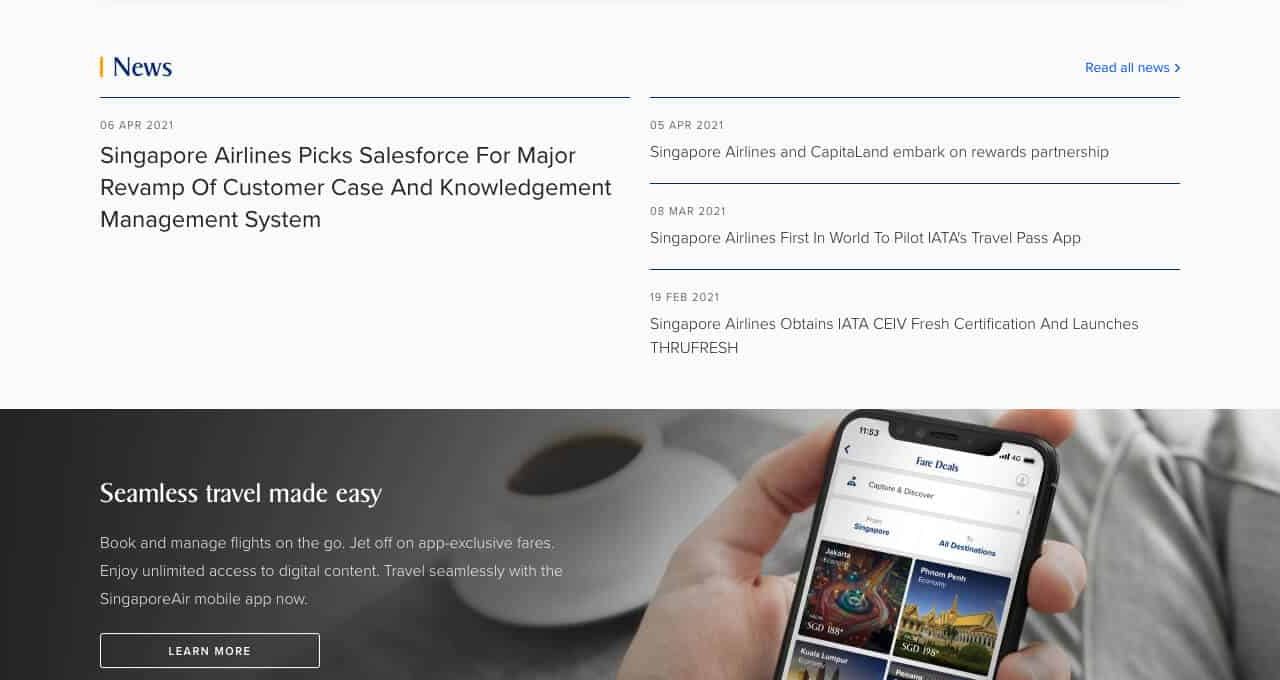 9. Loading Time
You only have five seconds to make that amazing first impression. If it takes ten seconds for your page to load, you've lost your visitors' interest.
Ideally your page should load in two seconds, that gives your viewer three seconds to glance over your headline and images and decide if they like you.
While you can't control the internet speed or connection at the users end, there are a few things you can do to help reduce loading times and speed up your engagement.
Make sure you have a quality web host with a strong network
Have a minimal number of plugins
Optimise the size of your images and videos
Reduce your CSS files and JavaScript
Don't be fooled by what your computer is displaying. You will be seeing a cache that remembers the data from previous viewings. To truly know how fast your website loads ask a friend to load your site and see how their computer handles the downloads. You can also clear your cache to get a clear view.
If you're interested in getting more granular detail, GT Metrix will analyse your site in real-time, give it a grade, and show you where you can make improvements. 
Now that you know all the necessary elements for amazing engagement, test it. Get feedback from friends and potential customers about the look, feel and handling of your website and make adjustments accordingly.
If you need help updating your homepage, Chillybin is a freelance website developer who can help you plan out a new site, re-design an existing site, or audit what you have and suggest the best steps forward. 
Contact us today and let's look at how we can make your homepage engage your visitors better than ever before!